Custom Built Modern Luxury Home. 8162 | Reunion Vacation Rental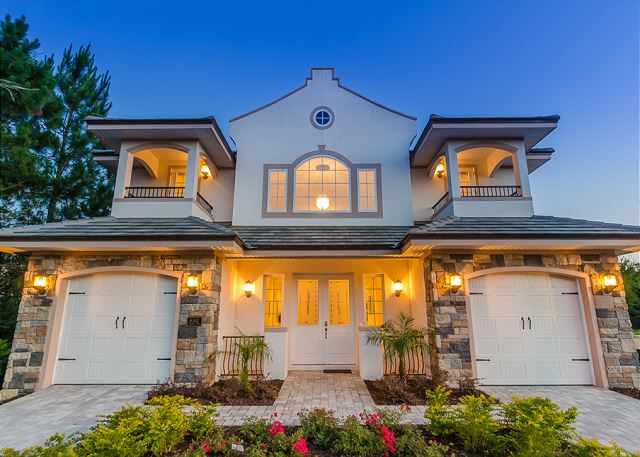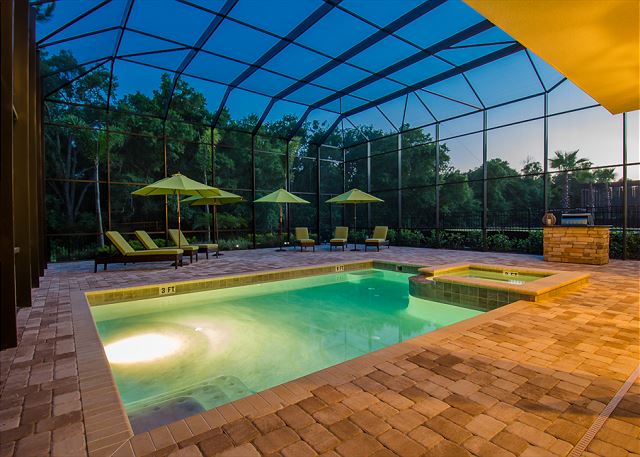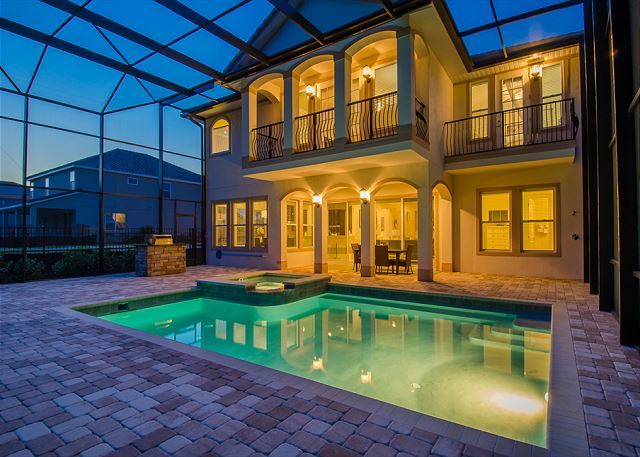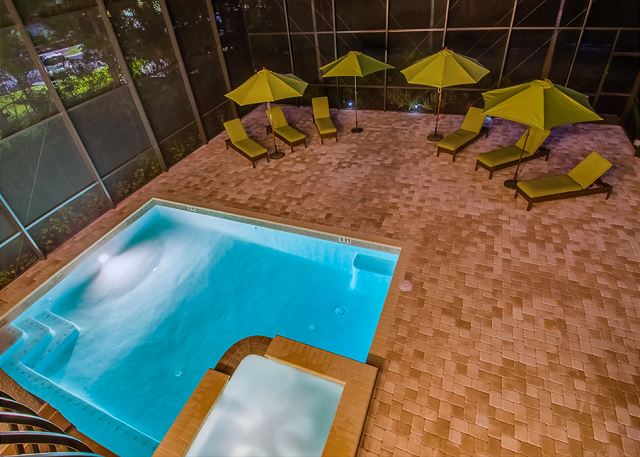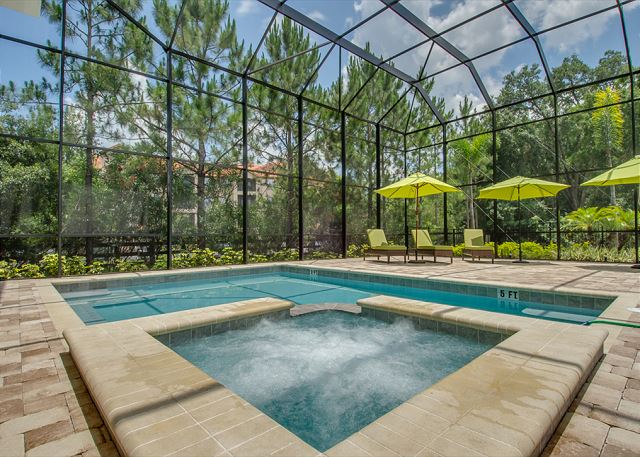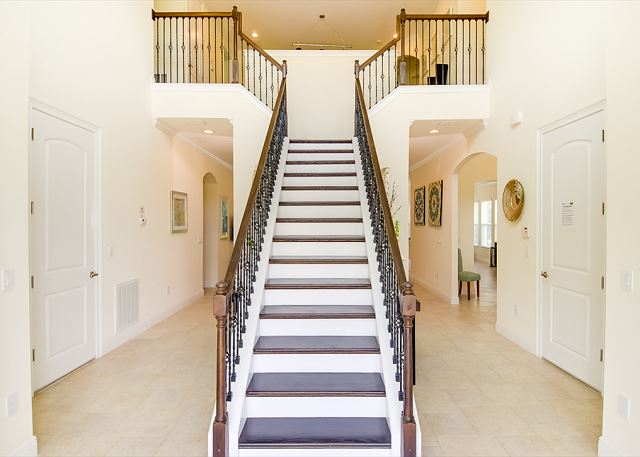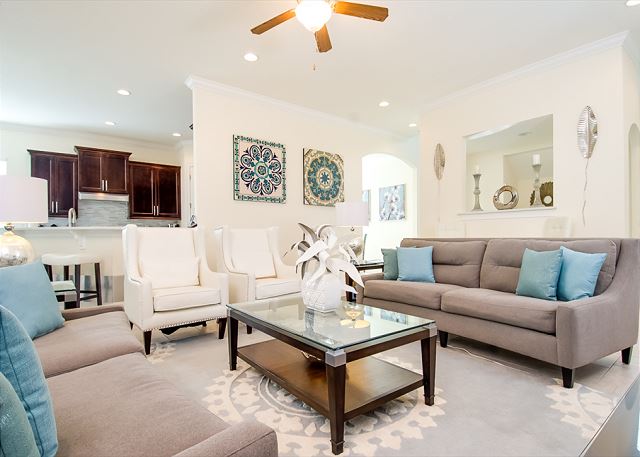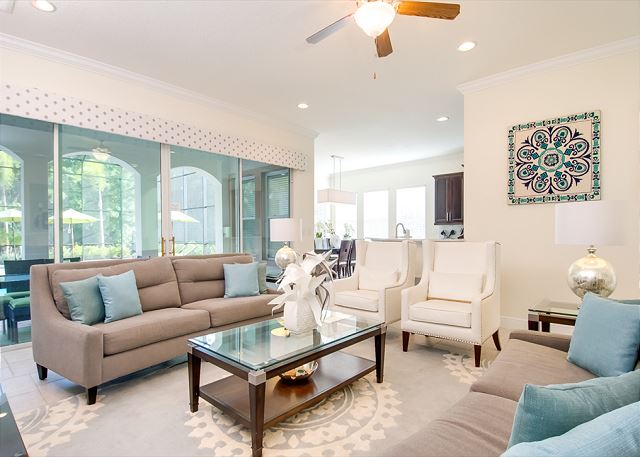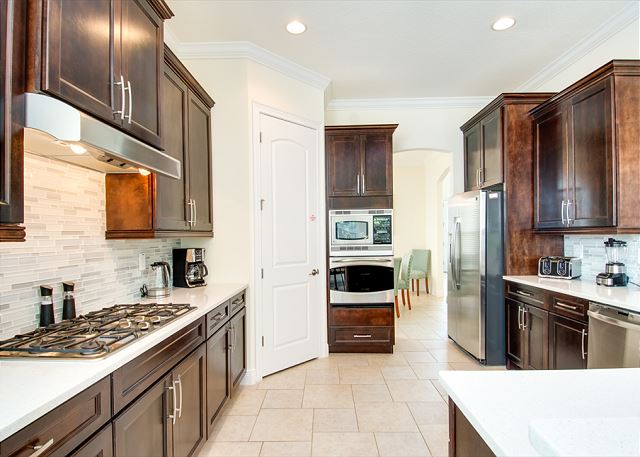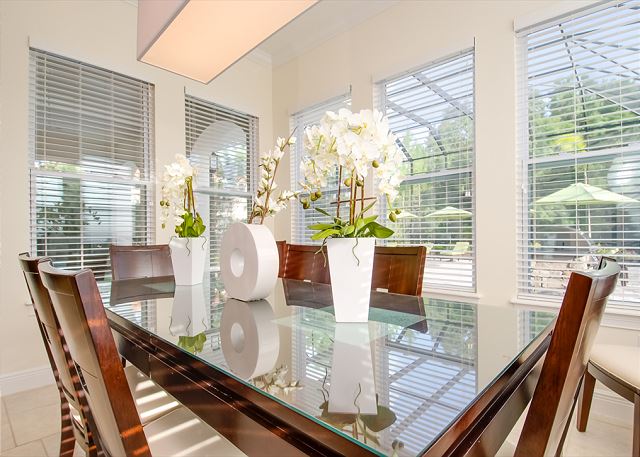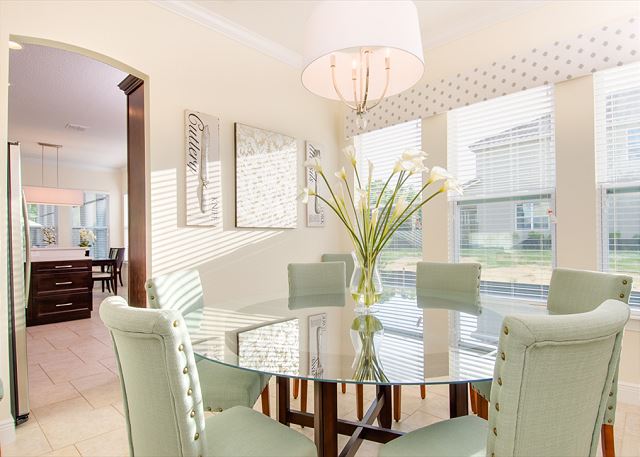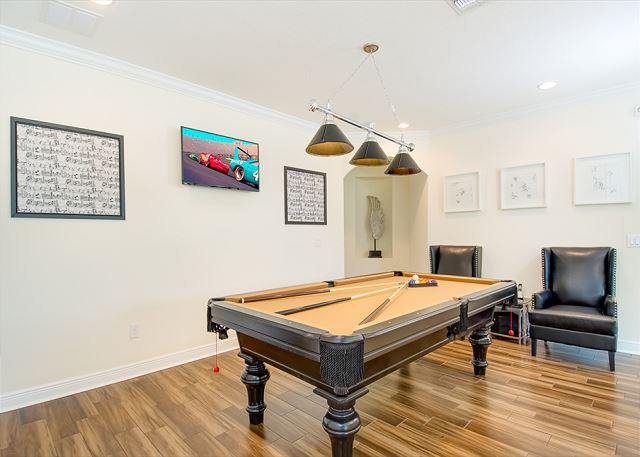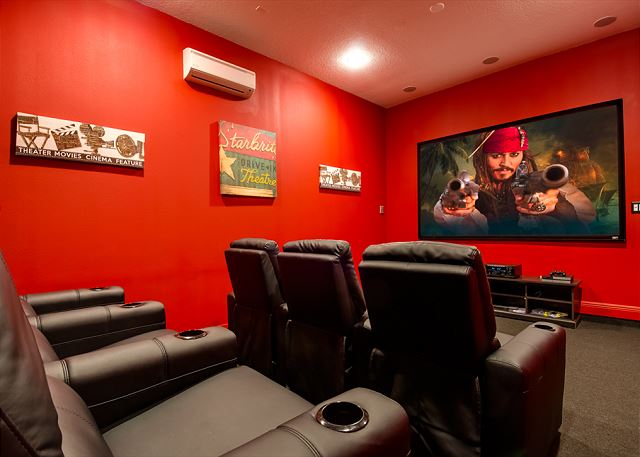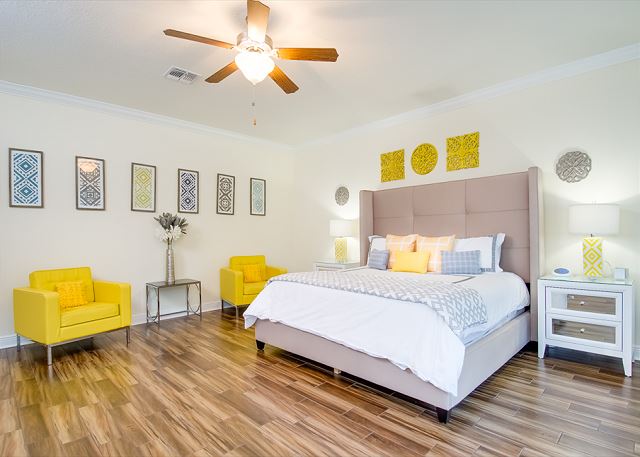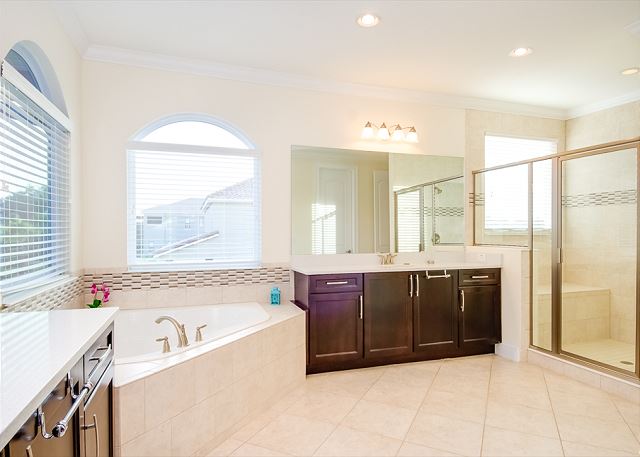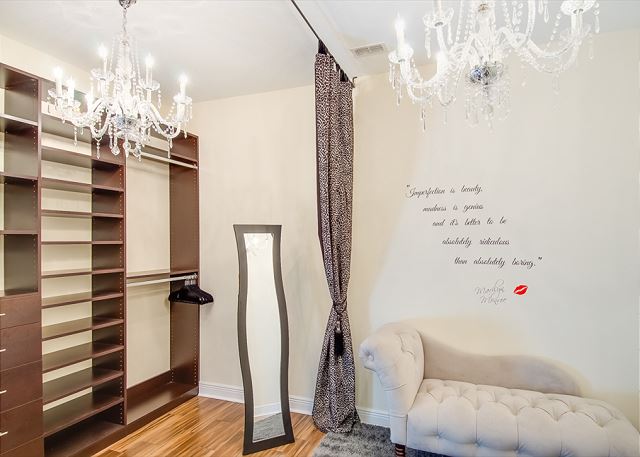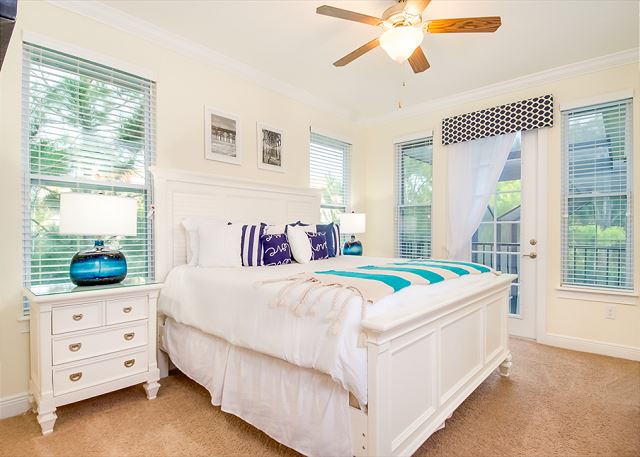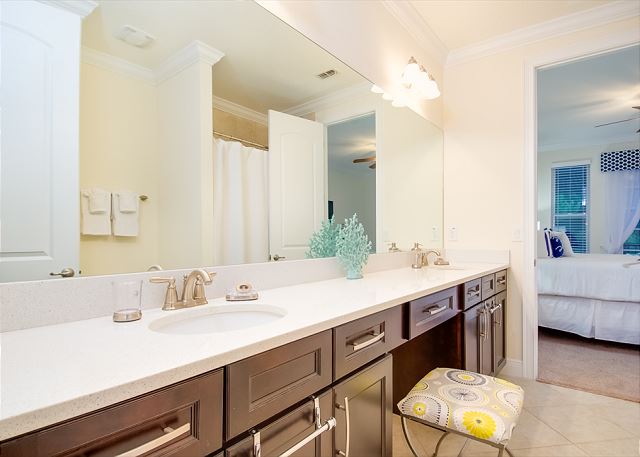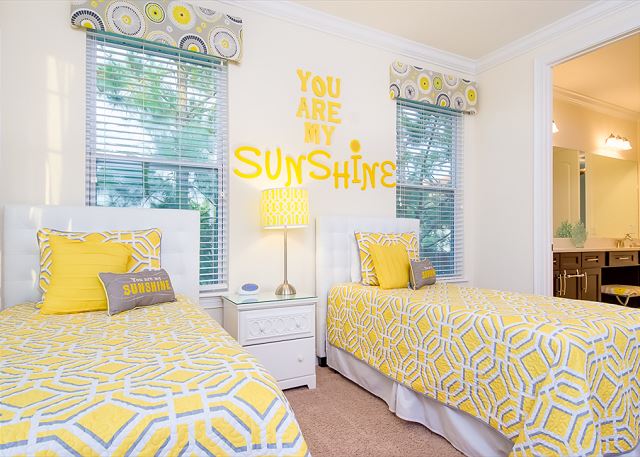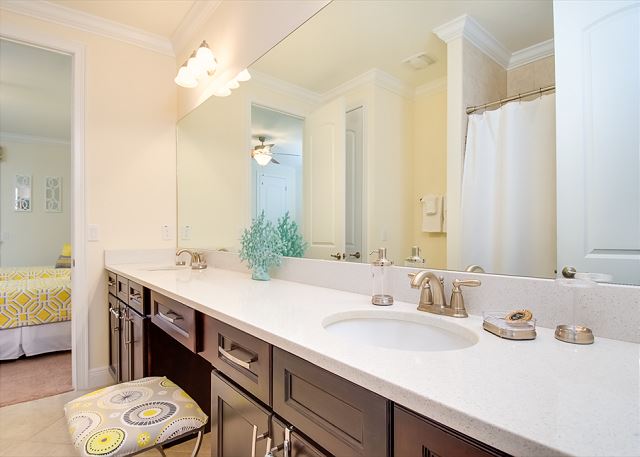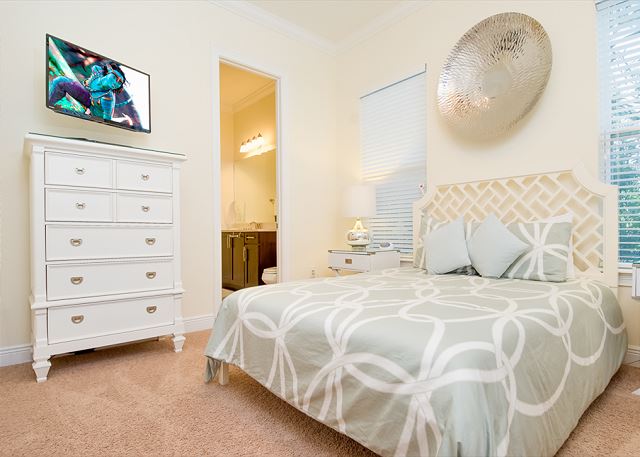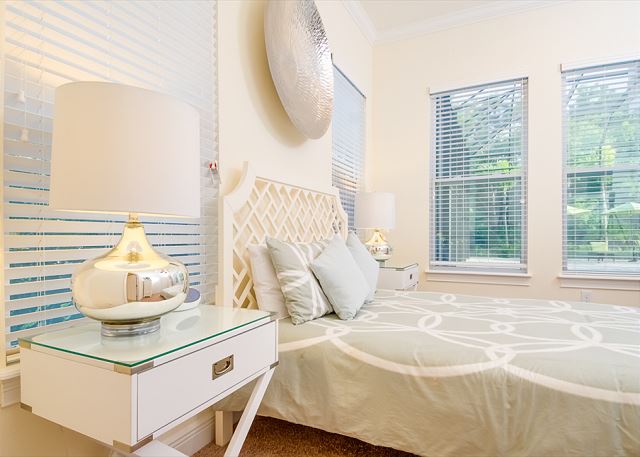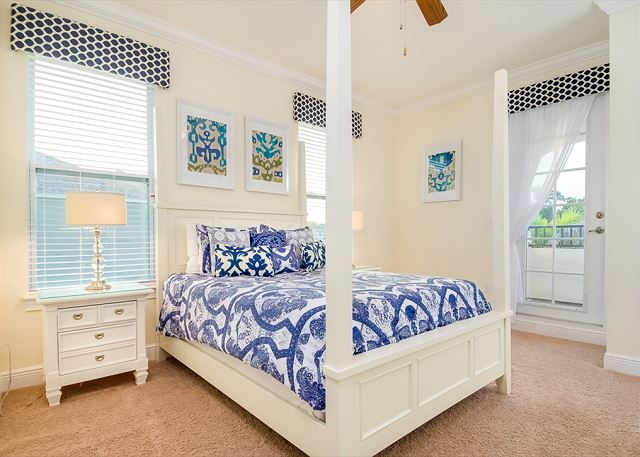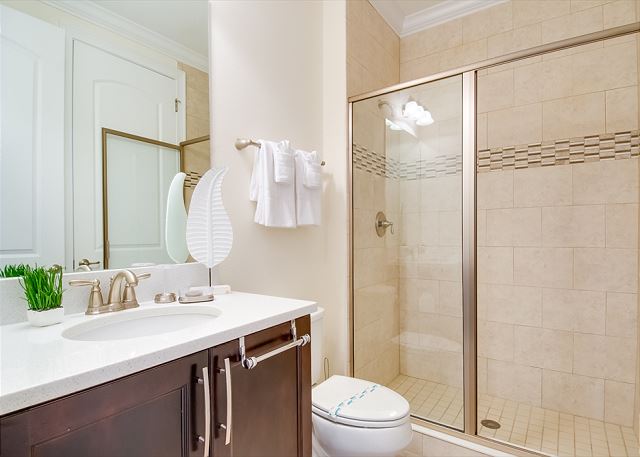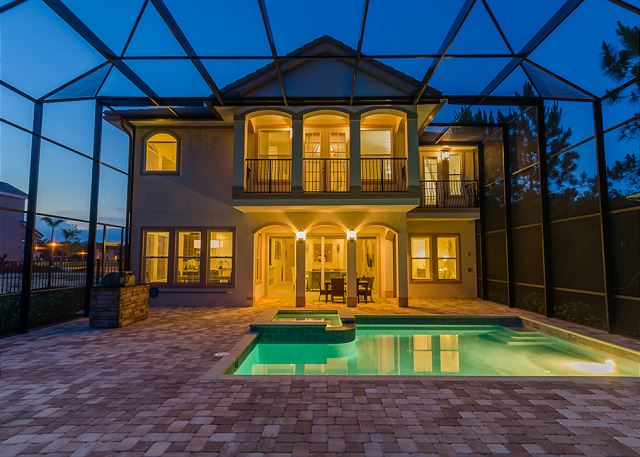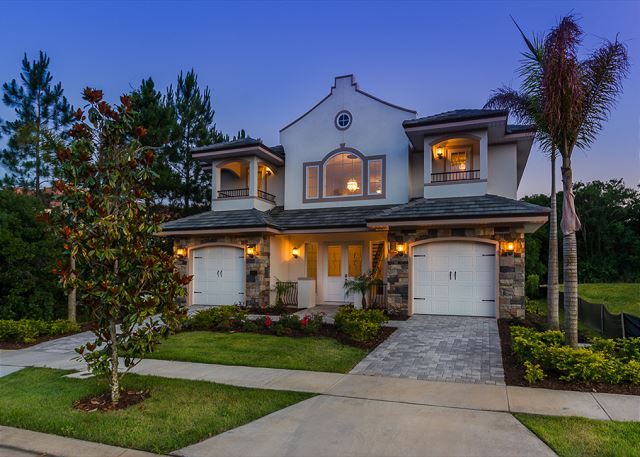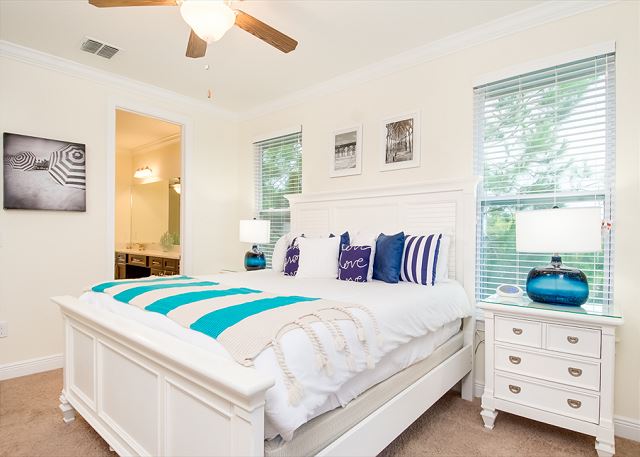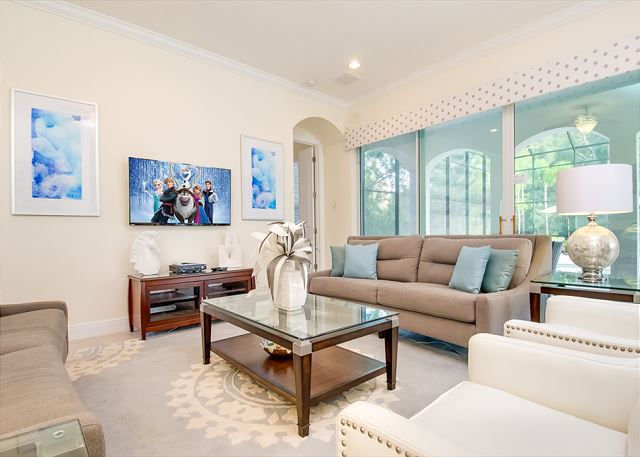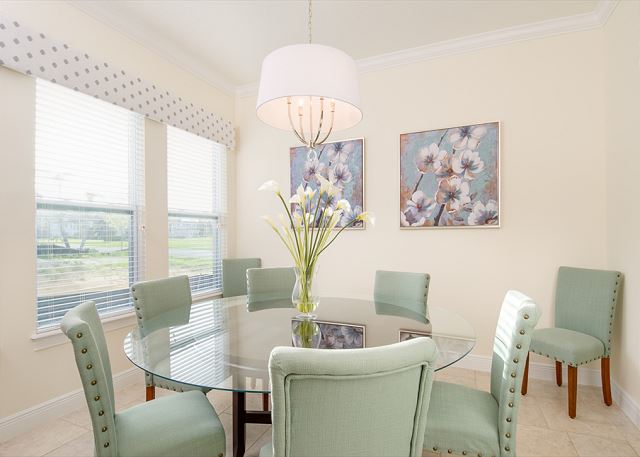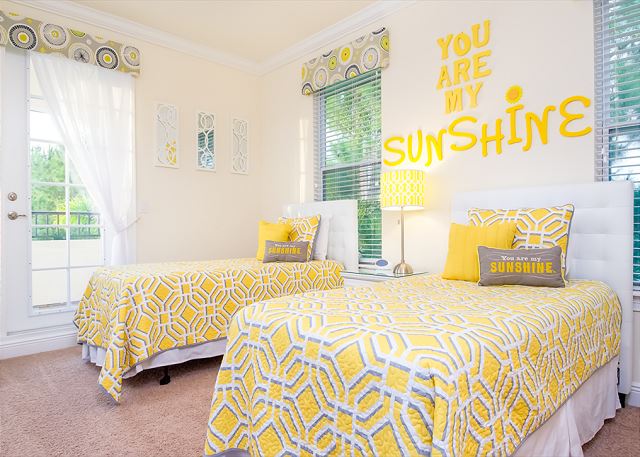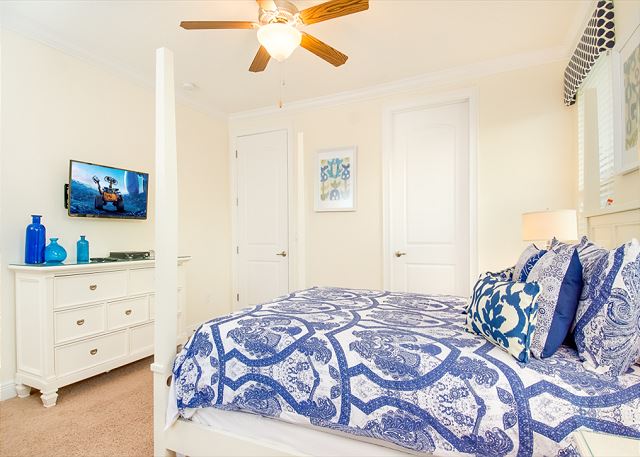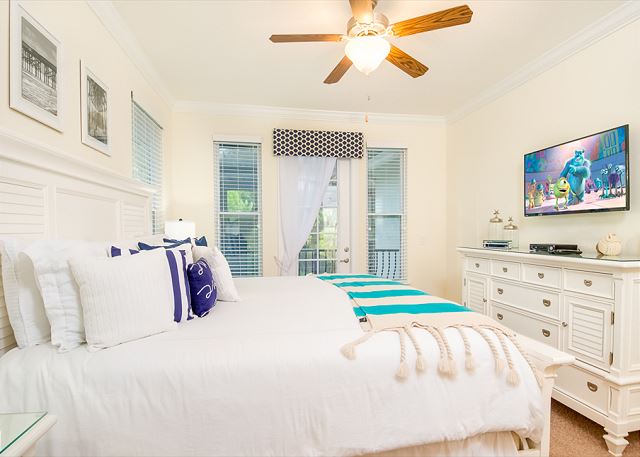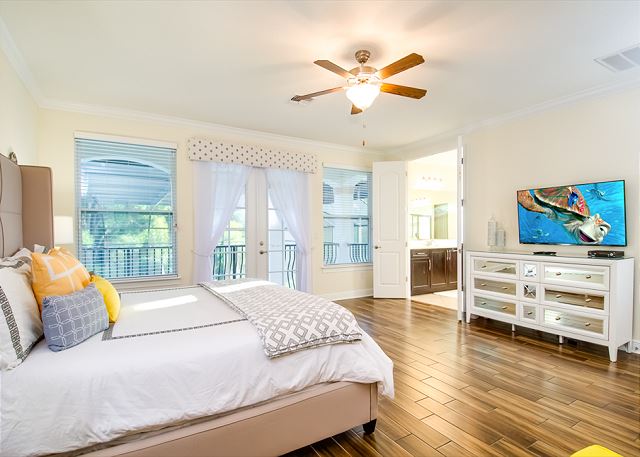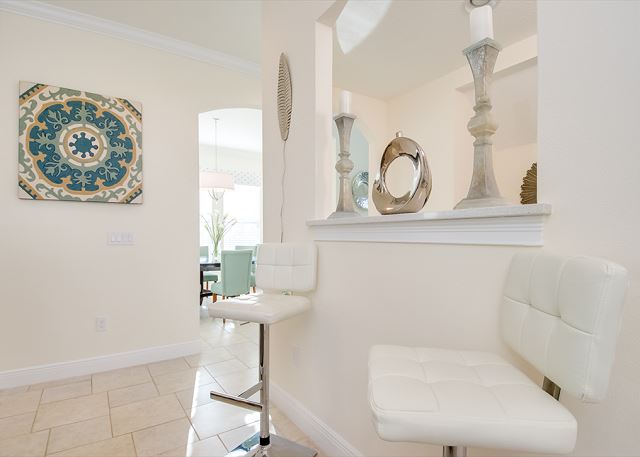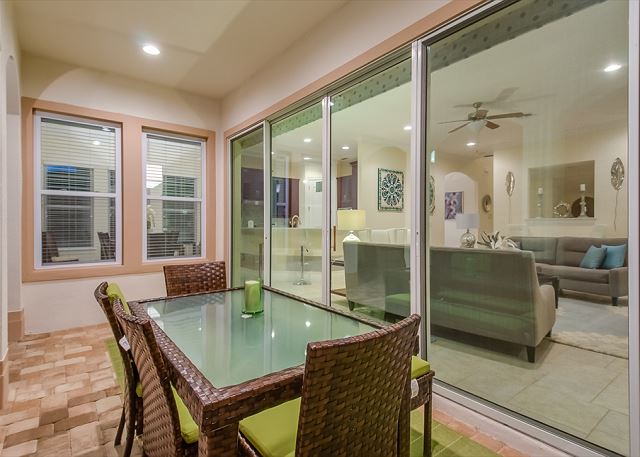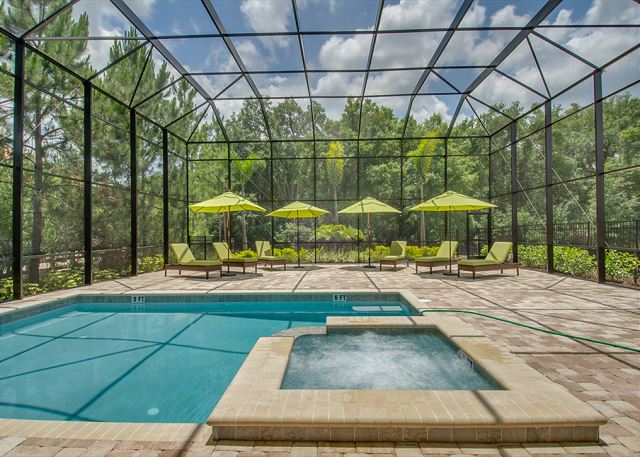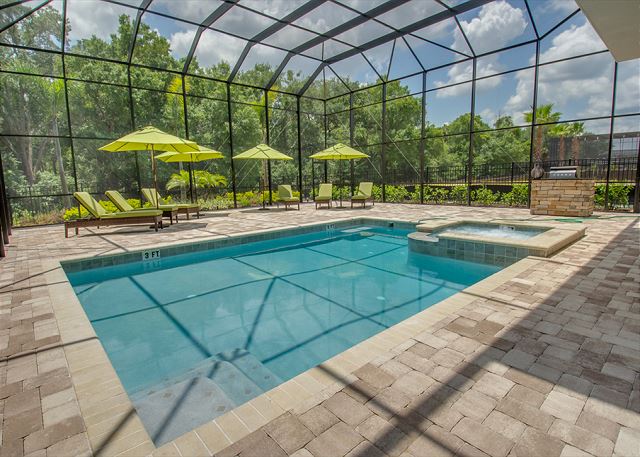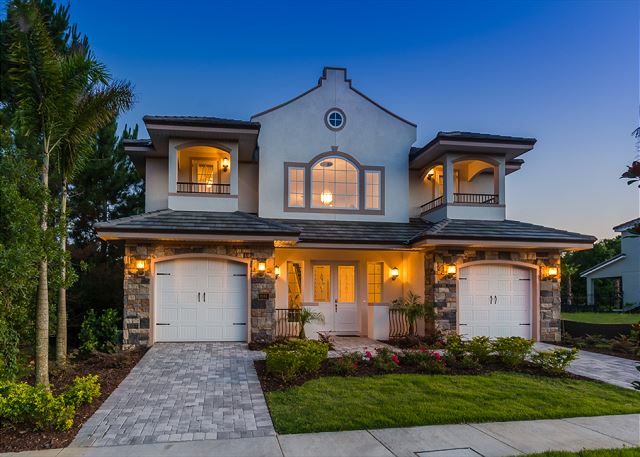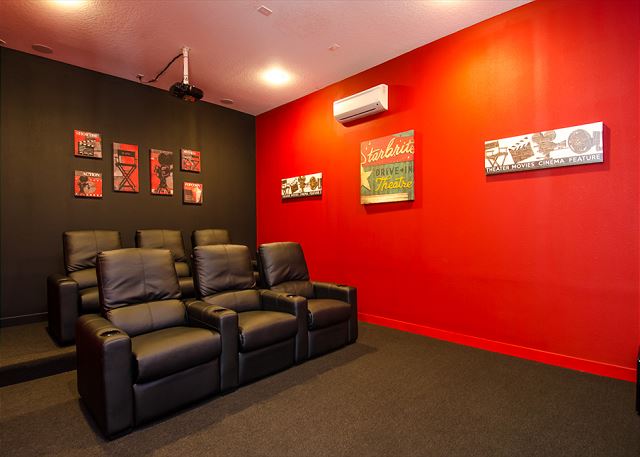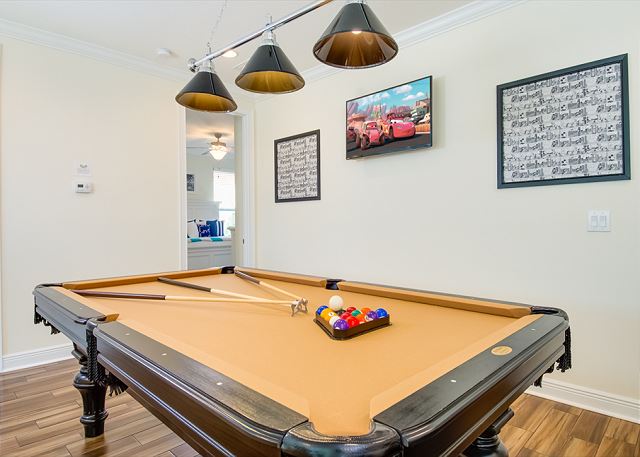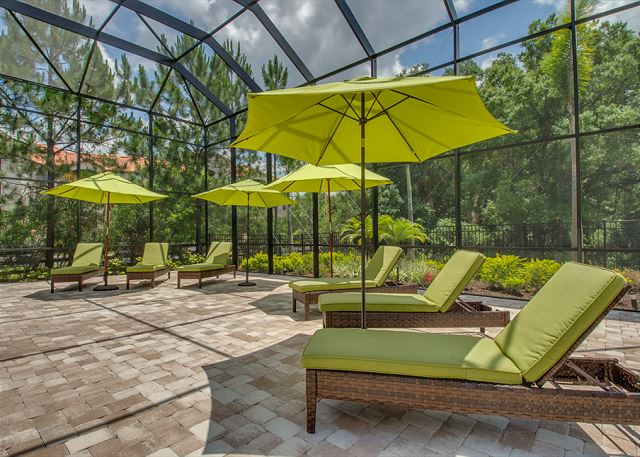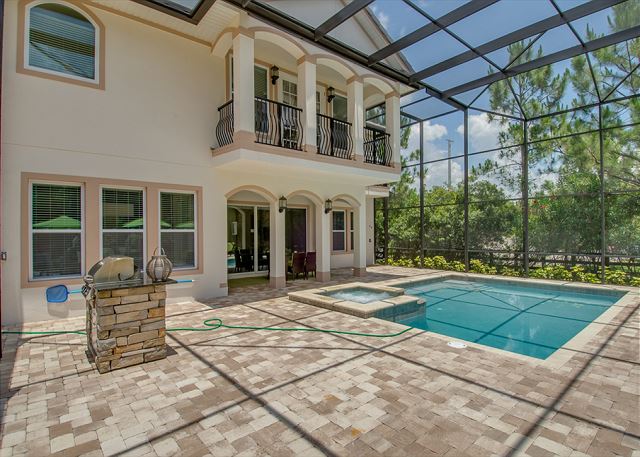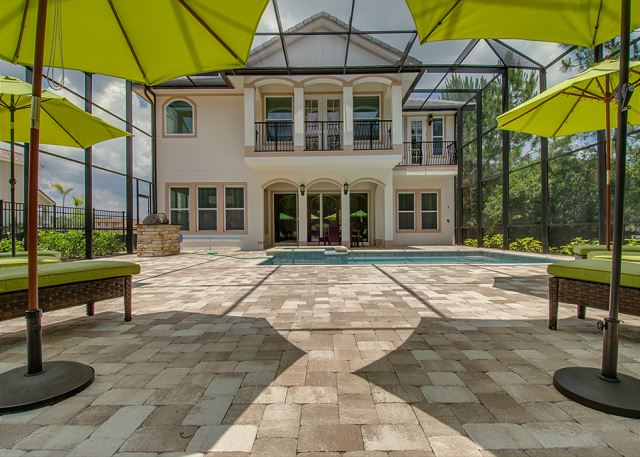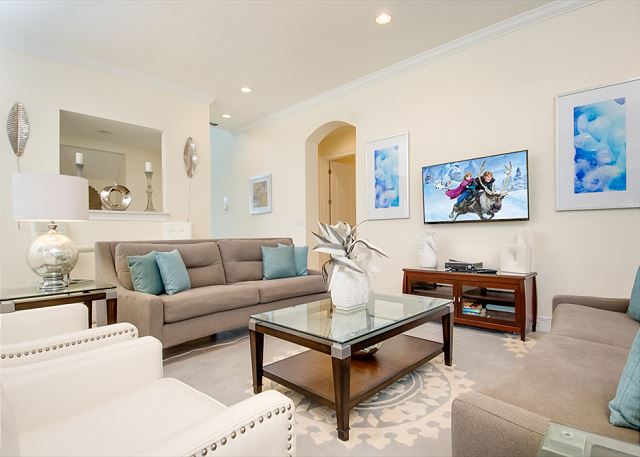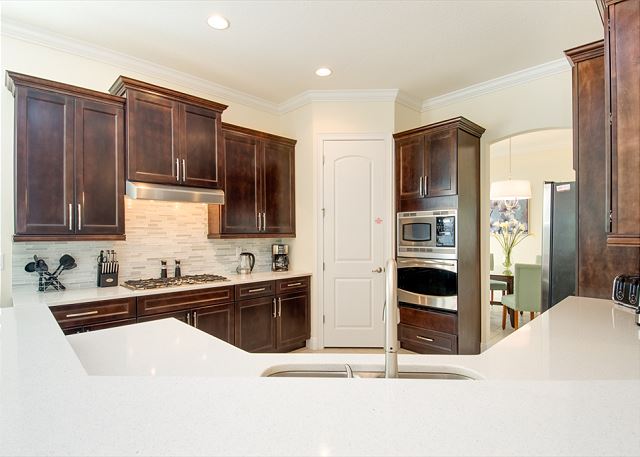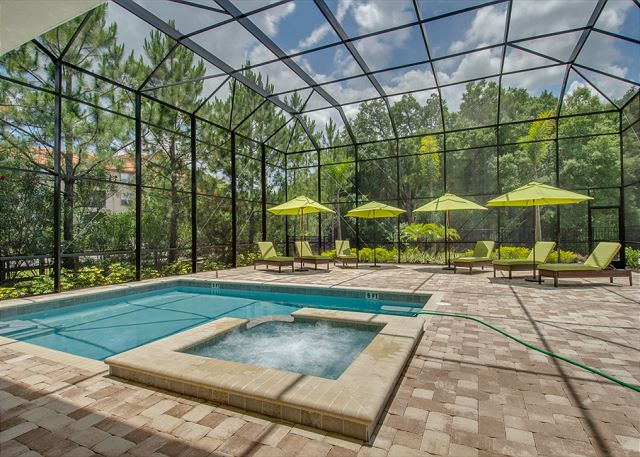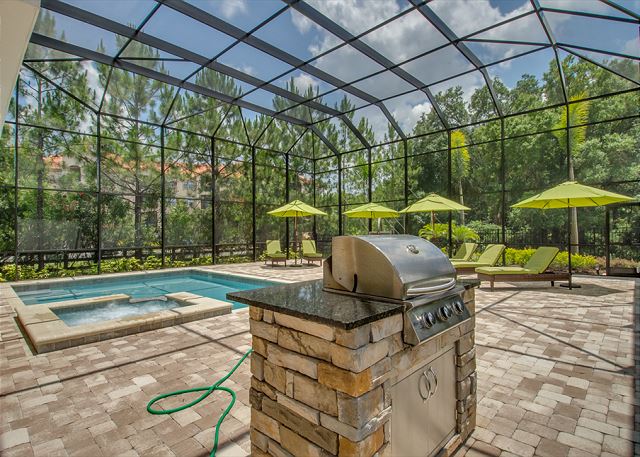 2 Kings, 2 Queens, 2 Twins

Stunning Custom Built, Designer 3500Sq.Ft Pool Home

Our 5 bedroom 4 bath Reunion Resort home is ready and available for you.

Our beautiful new home has one of the largest outside screened in patio areas in Reunion. Featuring a vast, unique pool area with large deck surrounded by comfortable loungers and sun umbrellas, completely screened in, so no bugs on us!.

Featuring a built-in outdoor grill - great for cookouts and family get together's plus an outdoor dining table sits waiting for you to enjoy just under our shady porch.

To top off this stunning area you will find seclusion and privacy with no rear neighbors, surrounded by beautiful trees and shrubbery.

Our whole home is designer high end styled and furnished by one of Florida's leading interior design teams. Featuring bright and breezy coordinated furnishings and décor, high-end bedding, linens and towels, we even have beach towels for you, just bring your suitcases!

This 5 bedrooms 4 bath home has everything you need to enjoy your vacation in luxury. A beautiful master bedroom balcony overlooks this large pool area and patio and sleeps 10 people in total luxury with 2 king beds, 2 queen beds, 2 twin beds.

Flat screen TV's in all bedrooms so each can watch what they want. Free WI-FI covers the whole floor

Styled closets, large bathrooms, hairdryers in all, a full-size laundry room with full-size washer dryer iron and board, everything you could need and

No need to go to the movie ....

This stunning home features its very own movie theater complete with gaming system. Enjoy a movie in the evening in the Movie Theater with comfortable reclining theater seats and a huge 100-inch screen.

For those who are a little more competitive how about a game of pool in the upstairs lounge on our professional slate bed pool table?

We have also added a garage games room with Ping Pong for hours of fun.

For people seeking the next level of luxury, look no further... To say you won't be disappointed is an understatement.

Books fast so please call quick to secure your dates !!
Thank you for entering your review. The review will become available to the system shortly.
Rating:
Review Date: 10/04/2016
Carl was really great to work with! He did his best to make sure our visit was smooth before and during our stay. The house was beautiful! I came here for my sister's bachelorette party, and everyone loved the pool and jacuzzi in the back! I love how the kitchen came with items such as trash bags, detergent for the dishwasher, plates, bowls, wine glasses, etc. The house came with everything a normal home would come with! The place was clean and ready for us when we got there! The neighborhood is beautiful as well, it felt like we were in a movie when we drove around! The only suggestion I have for future visitors is to tell Uber Drivers to use (SENSITIVE CONTENTS HIDDEN) Maps otherwise they WILL get lost! But we will definitely be back soon!
Rating:
Review Date: 06/24/2016
Carl was extremely attentive and promptly responded to all of my questions/concerns from the moment I sent the booking request through check-out. He was professional, friendly and very helpful. I intend to contact him for all of my future rental needs in the area. The house is AMAZING! It's super clean, spacious and beautifully decorated. There are 5 bedrooms (2 King beds, 2 Queen beds and 2 Twin beds). The recliners in the theater room are so comfortable that part of our group actually fell asleep in them. The best of part of the house is the hot tub/pool area and is where we spent the majority of our time. The huge lanai/patio is completely screened in, so you don't have to worry about bugs or mosquitos. We learned the hard way that there is a separate alarm for the pool area, so you have to push a button on the wall to temporarily disarm it every single time you want to go inside or outside. It was a slight nuisance for our group (we probably set off the alarm 50+ times), but if you have smaller kids, it serves it's purpose. Plus, per Carl, it's also required by law. As to the location, the property is secluded and very private (which is exactly what my group was looking for). I am already planning 2 more trips to this same house within the next few months(URL HIDDEN)
thanks Thanhya - you were great guests and I hope to see you in town again soon. Carl
Rating:
Review Date: 01/14/2016
I honestly enjoyed the house we were staying at very much but I will be very honest for the people wanting to book after. Pros: The house is beautiful The entrance of the community is secure and has a guard The interior is very spacious and the beds are so comfortable (except the room With the twin beds those will not accommodate adults ) very nice neighborhood Secluded house it's very private Looks very much like the pictures (pool area isn't as spacious as it seems yet it's beautiful) has a nice bug screen Very clean The grill outside was amazing The host was very attentive We had everything we needed Cons: The house isn't near many things Disney is 20 mins away Closest pizza place 15 grocery store as well and gas station The community is under construction The water in the bathrooms isn't that hot especially the down stairs room it doesn't get warm The pool door has an alarm that will go off every time you open the door (great if you have kids) Overall I'm not a picky person and I whole heartedly would stay at this wonderful place again. I want to thank Carl and leave last minute comments you would really appreciate the stay here.
Thanks sincerely for leaving a review. I will just address a couple of points for our other guests: A twin bed is a twin bed and sleeps one single person! If you play in the NBA maybe it is not the best but I am 6 ft 2 and it is fine. Ideally though I agree twin beds are best for kids. Location wise Publix supermarket, subway, McDonalds, Papa Johns, Tropical Smoothie and lots more are located in the Publix Plaza 0.5 miles from the main entrance of the community and the main guarded gate house. The house is near the back of the community but it is a couple of minutes drive to the front gate. Pizza Hut, Dunkin Donuts, a 7-11 gas station and a Chinese restaurant are in a second plaza 'Shoppes at Reunion' 0.8 miles from the main front gate house. Disney is as close as you can get without staying in a Disney Hotel... for instance 8.3 miles to Animal Kingdom. If guests need to be closer I advise staying in a Disney hotel. You can stay in some older communities about 2-3 miles closer to 192 and Disney however these are much much older communities and homes. Construction wise there are some homes on the community under construction however none by the house that would cause disruption. Pool Alarm is a requirement of Law and a felony to tamper with. Reason being the number one killer of children in Florida is drowning so there is a small button to bypass the alarm you must press before exiting the patio doors. Hot water I will investigate and resolve immediately - it should be as hot as anyone wants. thanks again for coming to stay and I will try and leave better local instructions for the future.
Rating:
Review Date: 12/22/2015
The listing was beautiful, spacious and very clean. It's very quiet and peaceful. In addition, Carl and his staff were very accommodating which made for an easy check-in, check-out and stay. There are a lot of additional amenities. We especially enjoyed the theater and pool table. The only thing we found frustrating was the pool/patio alarm which goes off if you don't press a button by the door. It's a safety feature for children and required by law under a Florida Building Code, but it's something we weren't accostomed to doing, so we kept setting it off. Otherwise a great stay, and I would highly recommend this for large groups and families.
Rating:
Review Date: 12/15/2015
The house is just as described, if not better in person. We arrived to an immaculate home with Carl available to answer any questions we had within minutes. The house had all amenities as described. Almost all bedrooms have balcony access with bathrooms attached. The movie room was wonderful; however, Id advise that you bring your own movies. There is a playstation 4 in the room, so we were able to login to our netflix account and enjoy. I highly recommend this house or any other homes Carl has available. We will definitely rent from Carl in the future if we are in the Orlando area again.
Your request has been sent. We look forward to meeting all your vacation needs!