An Entertainer's Delight. 9107 | Davenport Vacation Rental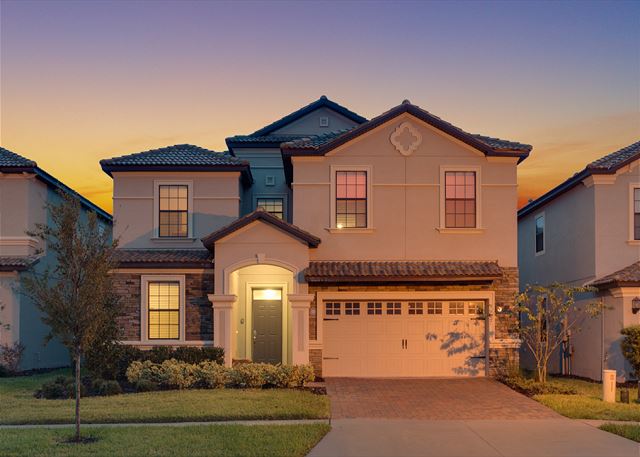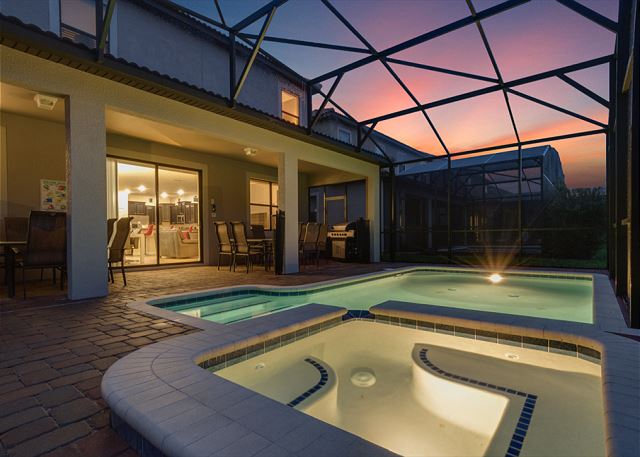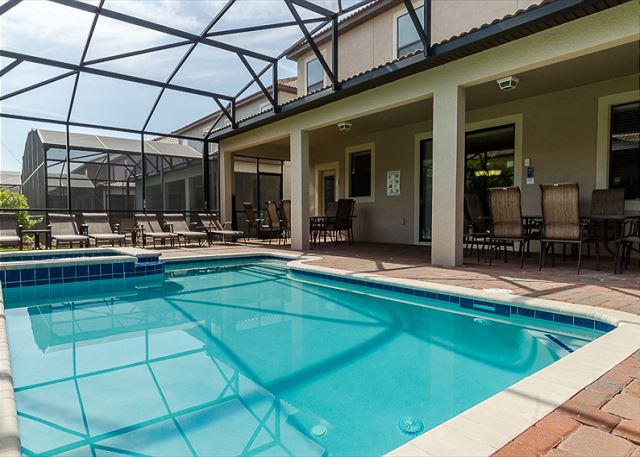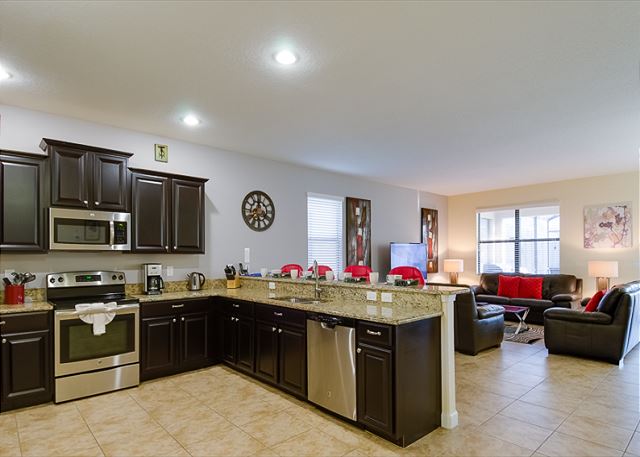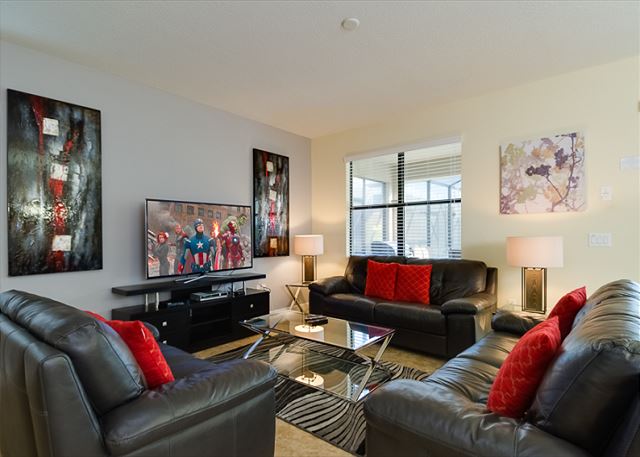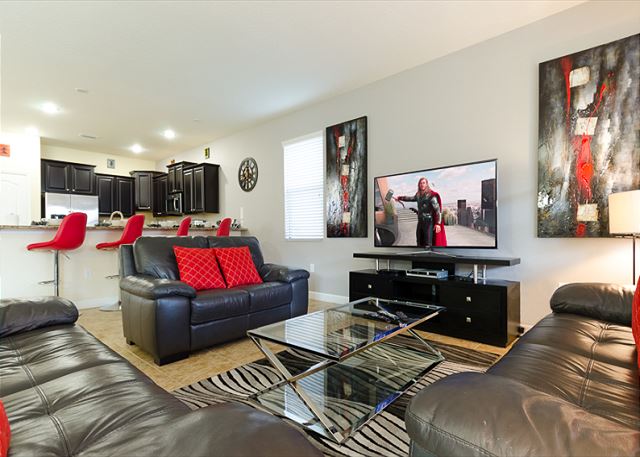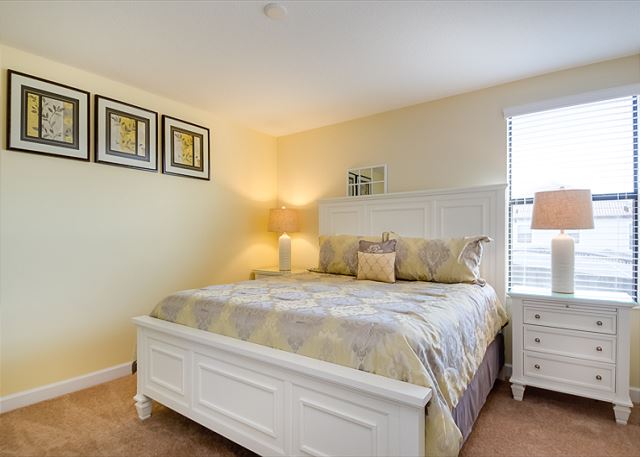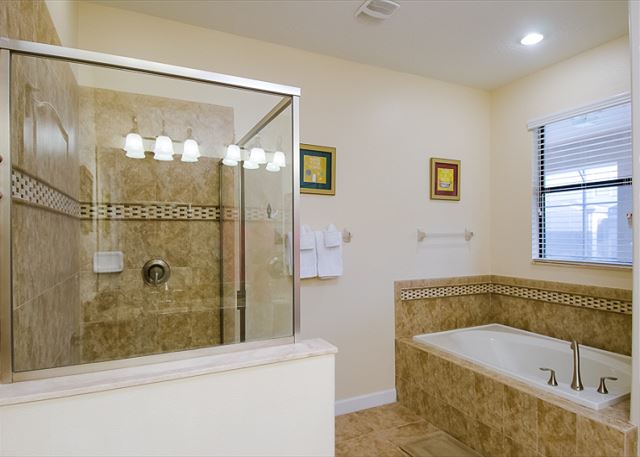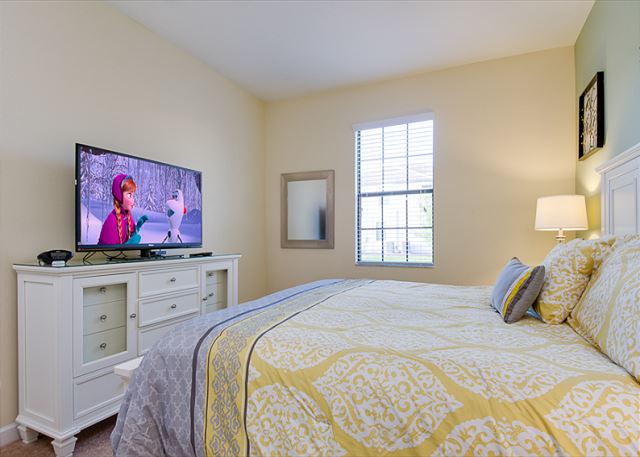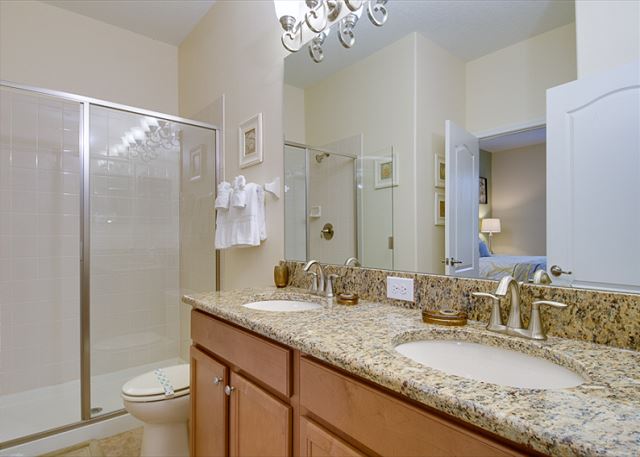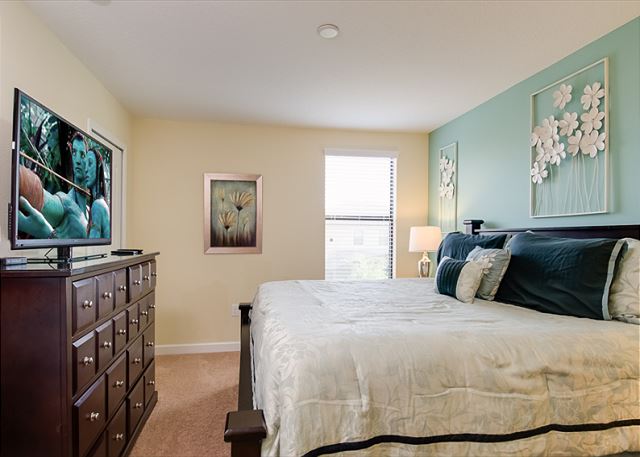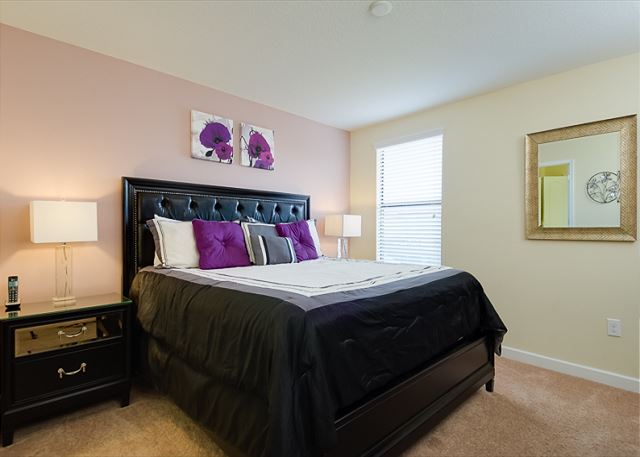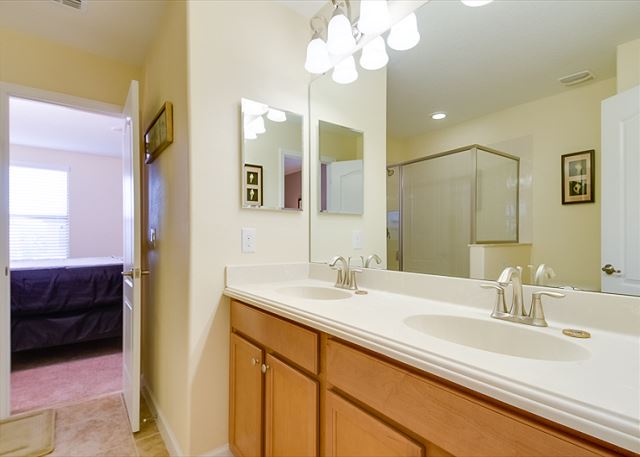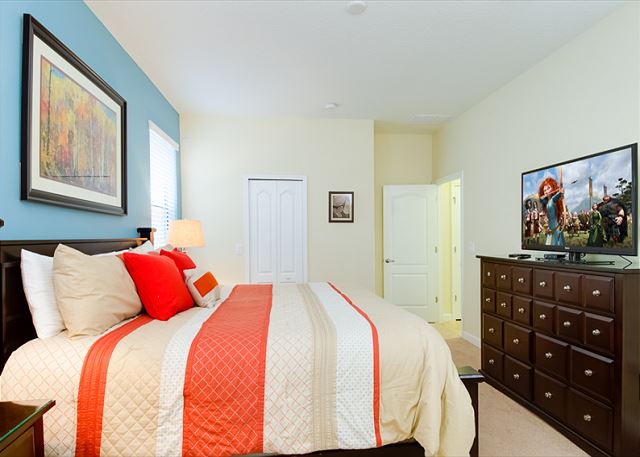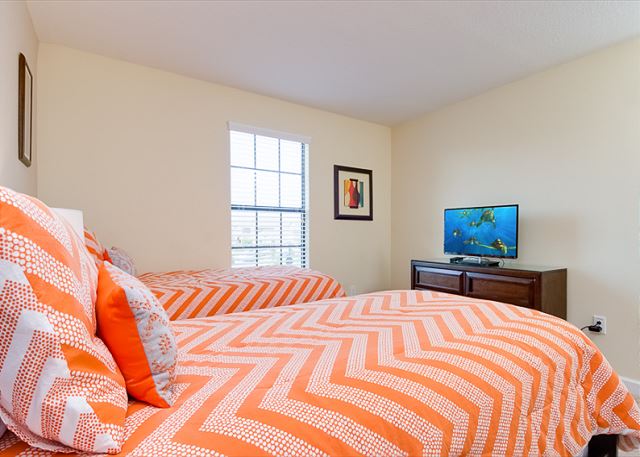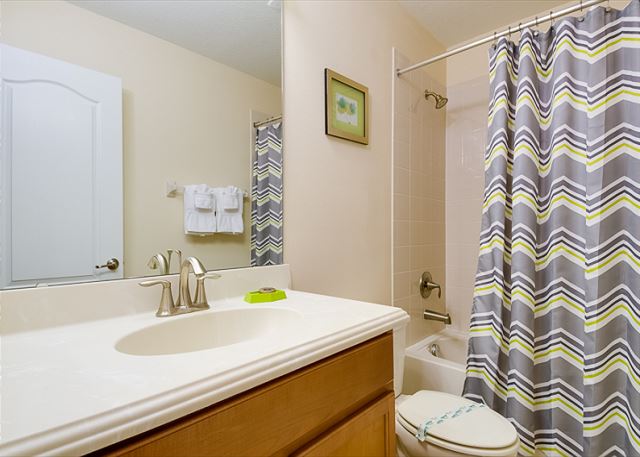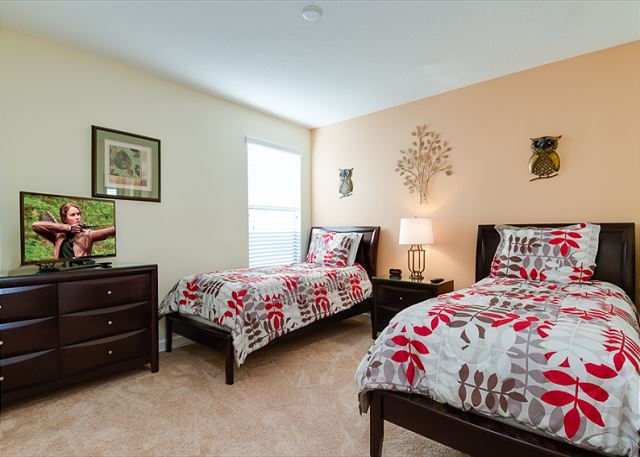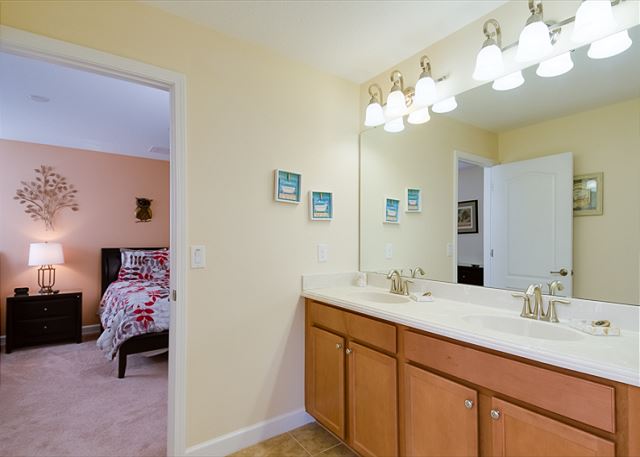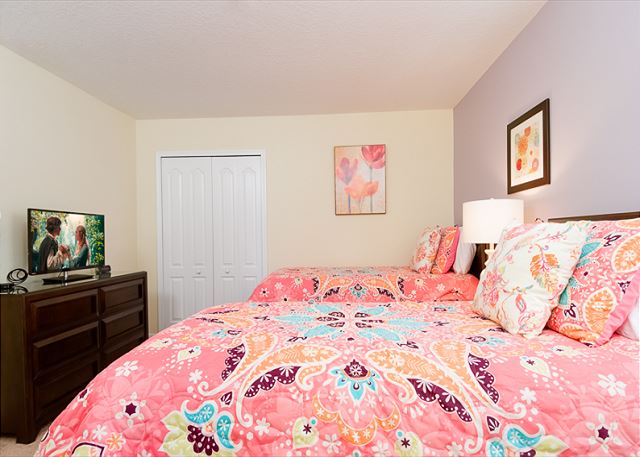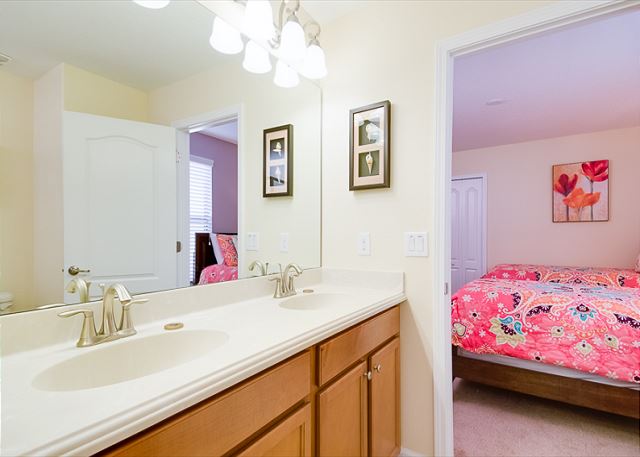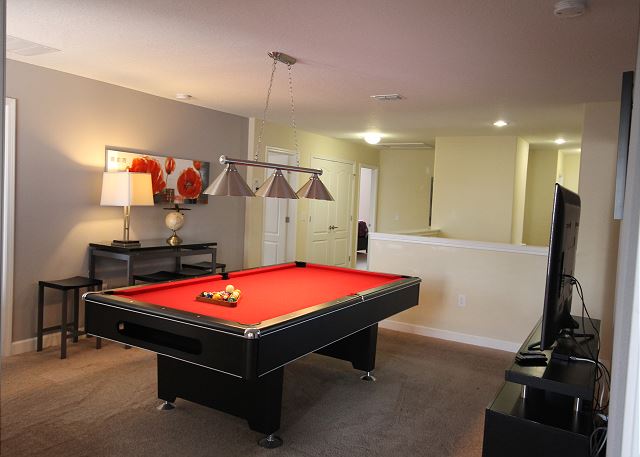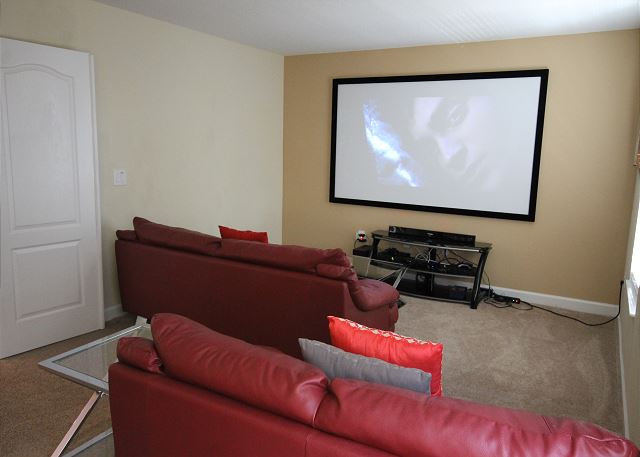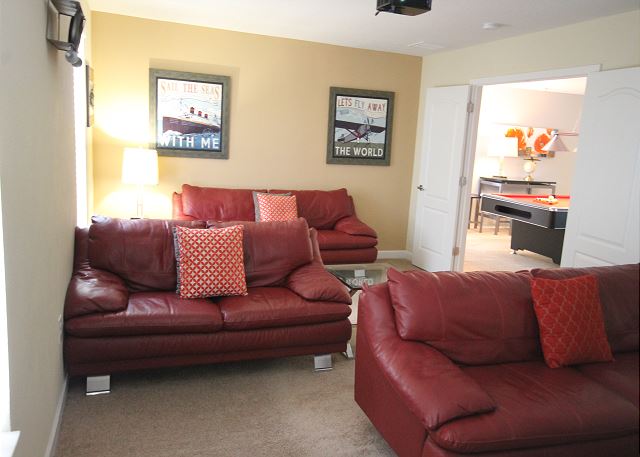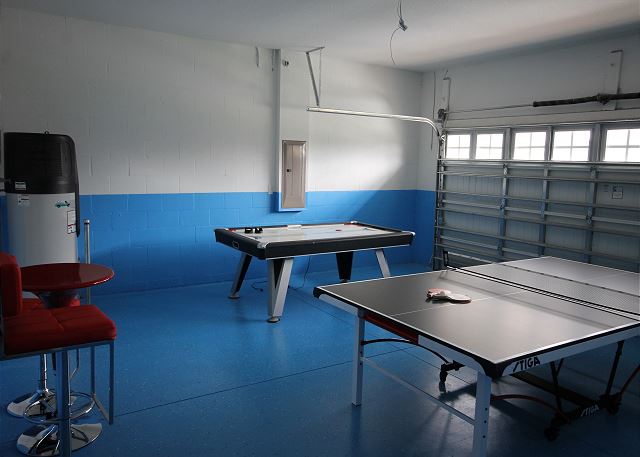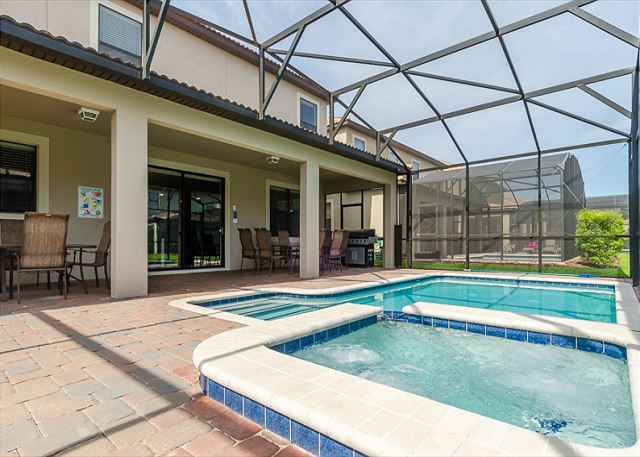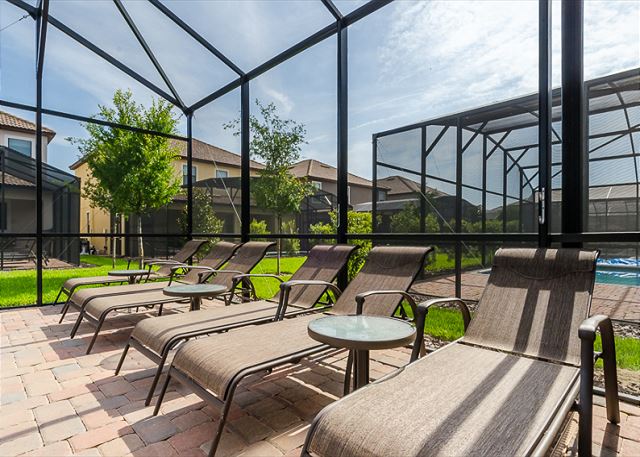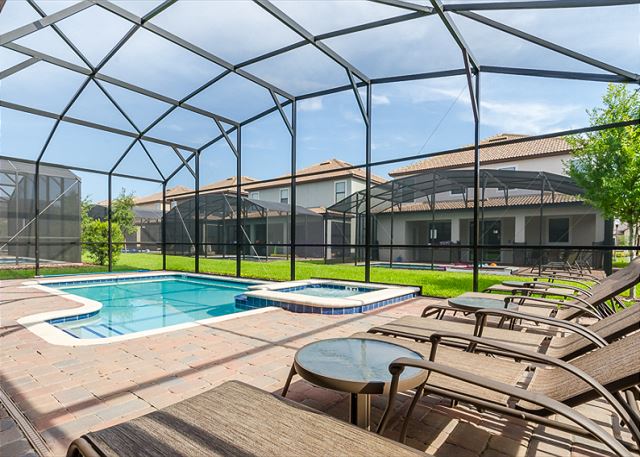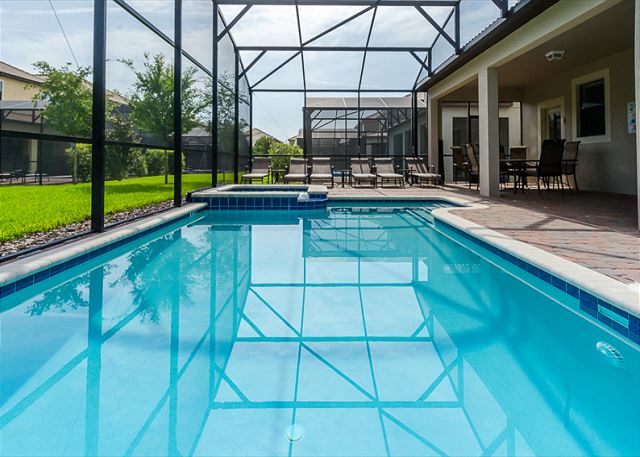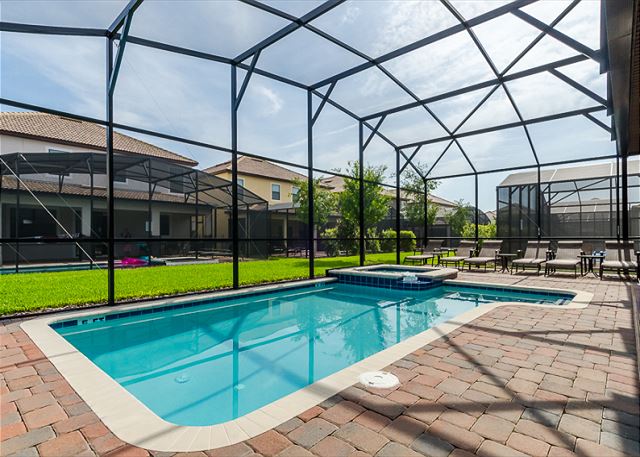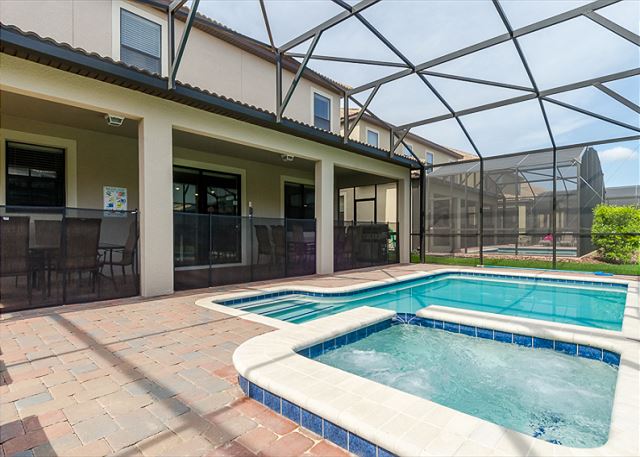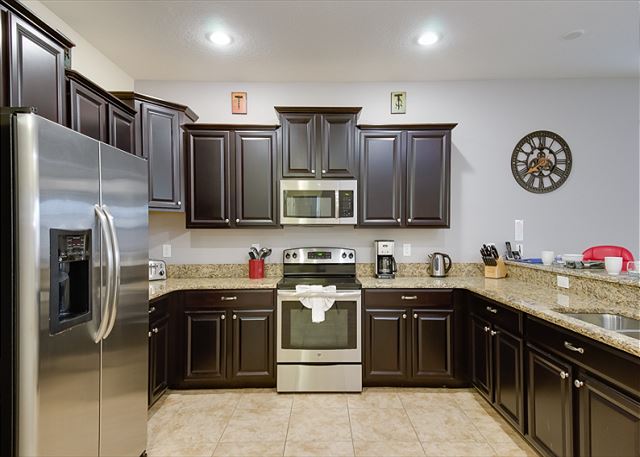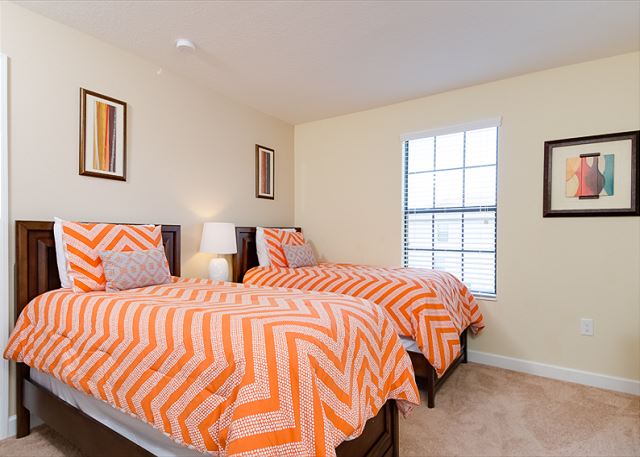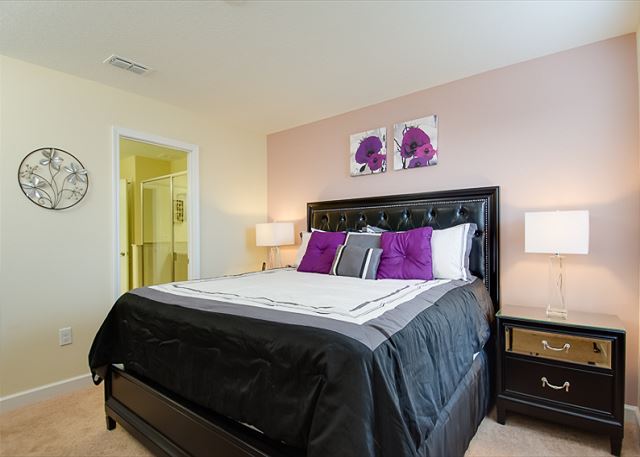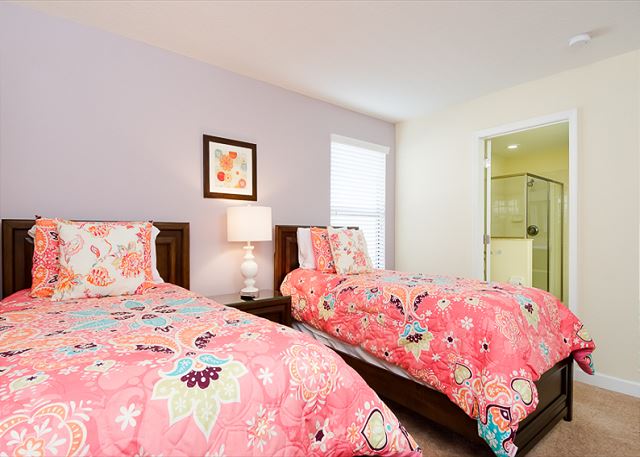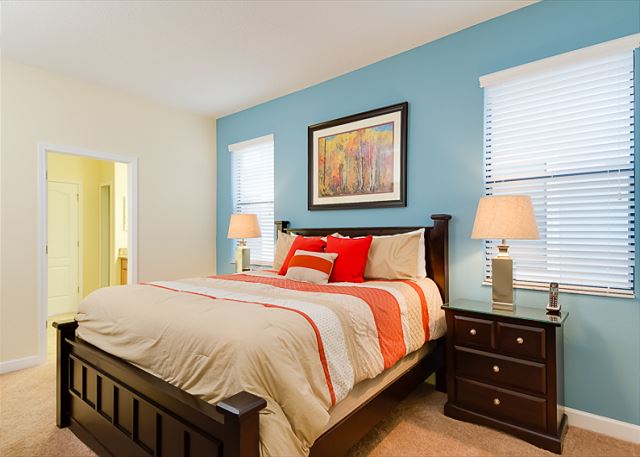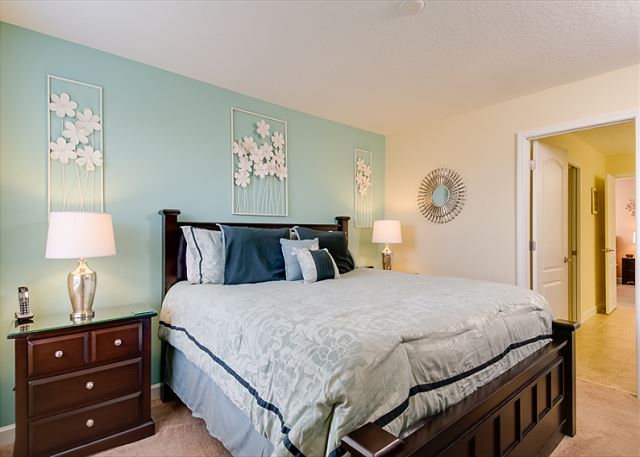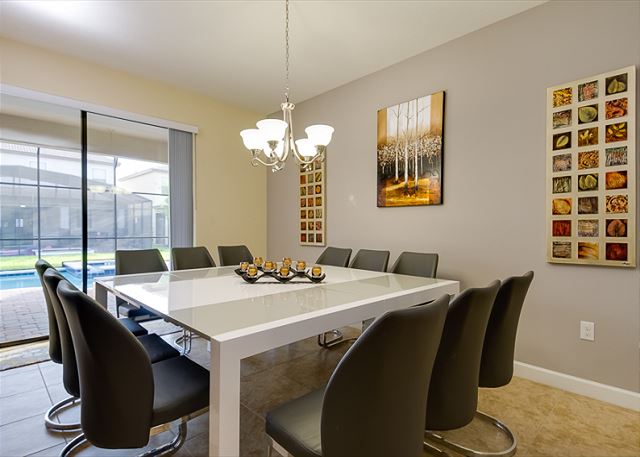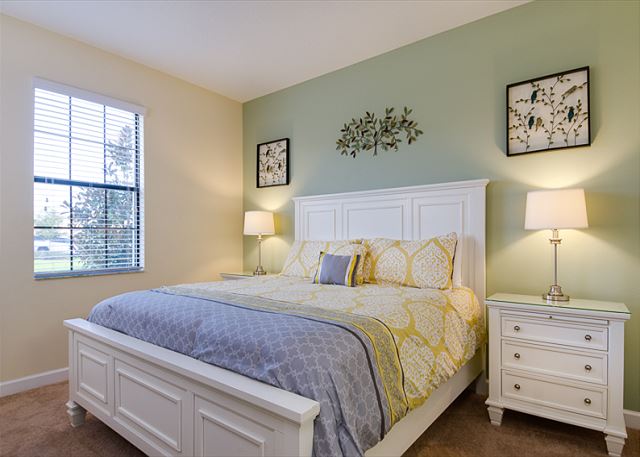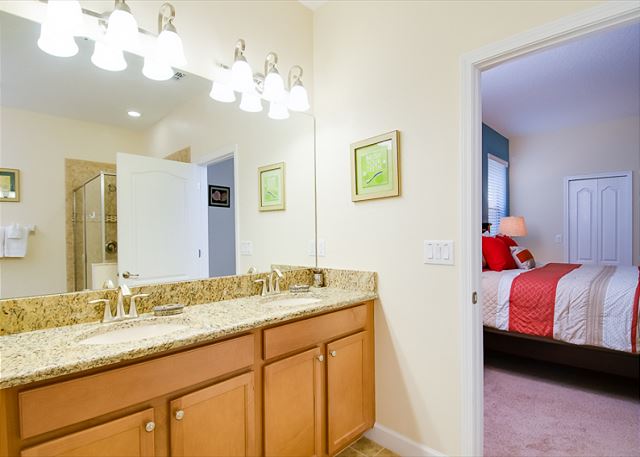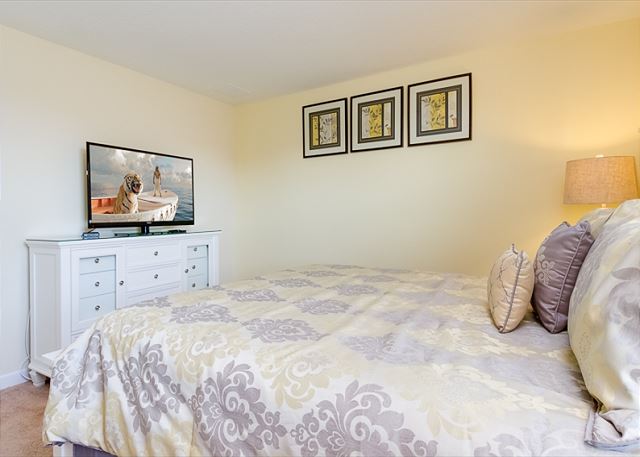 5 Kings, 6 Twins

Stunningly bright and modern pool home with over-sized screened-in pool & spa. Welcome to the best part of your perfect vacation!

Spacious, open multi-family floor plan providing a fabulous amount of space, covered in bright decor with fabulous accent colors. Start by heading into the living room on the lower level. Beautiful, multi seat couches available with red accent pillows, and a huge flat screen TV. The kitchen has dark cabinets, neutral colored granite counter-tops, stainless steel appliances, and seating at the counter (seats 4).

The pool deck is screened in and partially covered areas where the seating is. If you're looking to soak up the sun, enjoy lounging in one of the several high quality sun loungers on the pool deck.

Take a dip in the crystal blue pool or use the spa to ease the discomfort in your muscles from a long day at the local parks. (Please ask us about heating the pool & spa)

After all of the fantastic fun int he pool, seating is available on the pool deck too along with a barbecue grill.

This home sleeps 16 comfortably with 5 king beds and 6 twin beds. Additionally, each bedroom is tastefully decorated and is furnished with top-of-the-line linens and decor.

There is a laundry room with full-size washer and dryer including an ironing board for your use should you need them.

The title to this unit is named 'An Entertainer's Delight' for a reason. You have the pool & spa area, a huge TV downstairs in the living room, TV's in each bedroom, a billiard's area with another huge TV, a theater room, and a game room that has air hockey and a ping-pong table. There is literally so much to do here, you won't want to leave!

In the event you do decide to venture outside of the house, more fun is offered at the Champions Gate Oasis Club with a 25,000 sq. ft. clubhouse and a 82,000 sq. ft. water park area. Just take a look at this link:

ChampionsGate Video:

Please don't forget, these amenities offered at the Oasis Club are absolutely free for you to use during your stay!

Our beautiful, bright, and breezy home is competitively priced and leaves you wanting for nothing more. Open the door to your vacation with confidence, our home is professional managed and maintained to the highest standards. Booking up quickly, get your dates now!!
Thank you for entering your review. The review will become available to the system shortly.
Rating:
Review Date: 02/20/2017
It was a pleasure staying at Carl's place and my family enjoyed there stay as well. Everything you see on the pictures is what you see in person. Driving to Seaworld could seem long during heavy traffic hours but other than that we had a great family trip.
Hi Navodda, thanks for coming to stay, you guys were awesome guests - let me know next time you are in town and I can give you some great tips of where to see wild dolphins in the ocean within a reasonable drive... is beautiful and way better than the local sea circus!
Rating:
Review Date: 02/10/2017
Great neighborhood...beautiful home...easy check in...and great value!
thanks for coming to stay Stacey - you are most welcome back anytime
Rating:
Review Date: 12/19/2016
Carl was great. He was always available and very professional.
thanks again for coming to visit Andrew. You are welcome back anytime
Rating:
Review Date: 10/12/2016
A few friends and I visited Orlando for Halloween Horror Nights, we stayed in this house for three days and we had a great experience. The house accommodated all 12 of our guest with all our needs. the house had Wi-Fi, full kitchen, screened in patio area with a pool, Jacuzzi, grill, and seating area. The game room had an 8ft billiards table with an Xbox gaming system, and a tv room with plenty of seating. Very spacious home, even with our large party we had privacy and never felt cramped. The house was clean and the location was great. Carl was a great host, he was easy to contact and quick to respond to all my question. I would recommend this house to anyone with a large party seeking a place to stay in the Orlando area.
thanks so much for coming Diego - please remember to contact me next time you are in town and we offer an extra special discount for returning guests
Rating:
Review Date: 10/01/2016
Beautiful house and neighborhood, would definitely recommend this house! Carl was very accessible and accommodating. Thank You!!!
thanks so much for leaving a review Erika - you are welcome back anytime at all
Rating:
Review Date: 09/22/2016
We had a memorable time. We enjoyed the home and the kids really enjoyed the water park at Oasis!
thanks so much for coming Mi, I hope to host you again soon
Rating:
Review Date: 06/04/2016
I really enjoyed myself. The house was EXACTLY as pictured. Carl answered his phone quickly whenever I had a question. FYI the on-site waterpark is open 9am-9pm
thanks Jeffrey - yeah, the waterpark changes from time to time, sometimes its as late as 11pm sometimes 9pm. Thanks for coming to visit - you are welcome back anytime at all!
Rating:
Review Date: 04/19/2016
This place is wonderful! We were a party of 14, 3 families, and there was plenty of room for all of us and some to spare. The place was spotless and very modern. There is a mini-waterpark in the complex that the kids loved. We will definitely come back!
thanks Lori you are welcome back anytime
Rating:
Review Date: 02/19/2016
My fiancé and I booked this amazing house for a weekend with our wedding party. When we arrived the home was immaculate and exactly as advertised. There was plenty of room for the 14 people in the house. We enjoyed our time in this home and will definitely be contacting Carl for future stays in the Orlando area.
thanks Maxx - you are welcome to stay with us again anytime
Rating:
Review Date: 02/16/2016
It was a nice house to stay, 8 bedrooms for my big family. Kitchen is nice and clean. We had a great time!Carl was very helpful, It was a great house to stay for a big group.
thanks Vivian - you guys were awesome guests come back and see us again soon
Rating:
Review Date: 12/08/2015
Awesome weekend here! The house is amazing and even better in person. Close enough to Disney but far enough to be away from madness! Be sure to plan some time to enjoy the clubhouse...kids LOVED game room and pool! Reservation process was easy & straightforward, check in a breeze!
Rating:
Review Date: 10/20/2015
we did not have any issues finding the house. The house is beautiful and clean and exactly as described (better than described) The pool was a little cool but their is the option to purchase the heater for the day. If back in Orlando we will reach out to Carl again.
thanks Stephanie come back and stay with us soon!
Rating:
Review Date: 08/11/2015
We all like the house! Very clean and the place is very pretty! Just 15 to 20 minutes to arrive to disney! With heavy traffic
Hi Carlos, thanks for taking the time to review. Its normally only 10-15 mins but traffic was crazy this July/August. Come back and see us again soon!
Your request has been sent. We look forward to meeting all your vacation needs!