Reunion Golf Course View Home. 7526 | Reunion Vacation Rental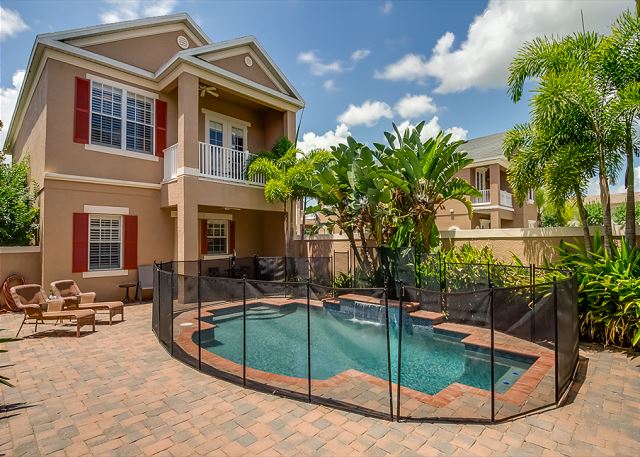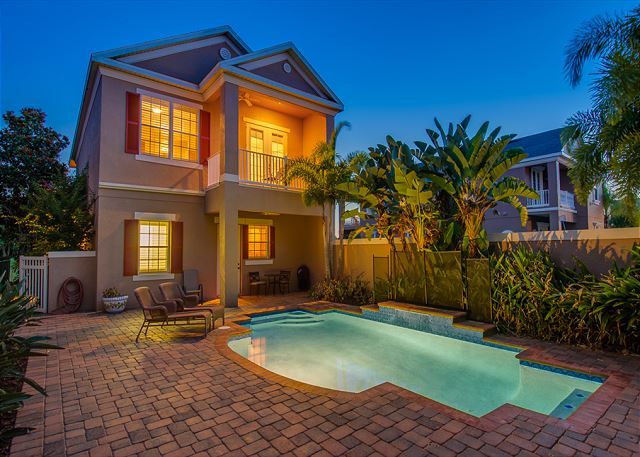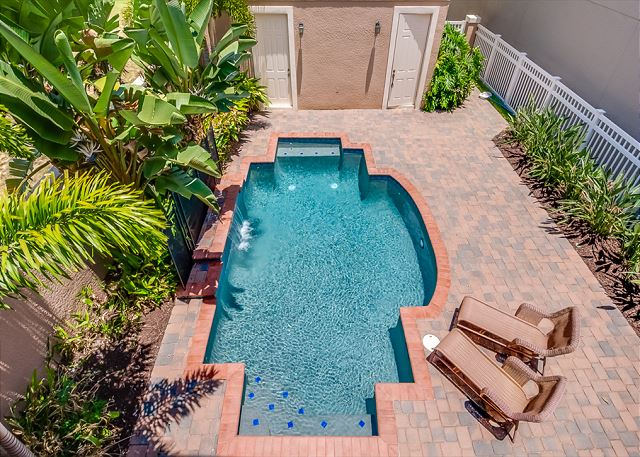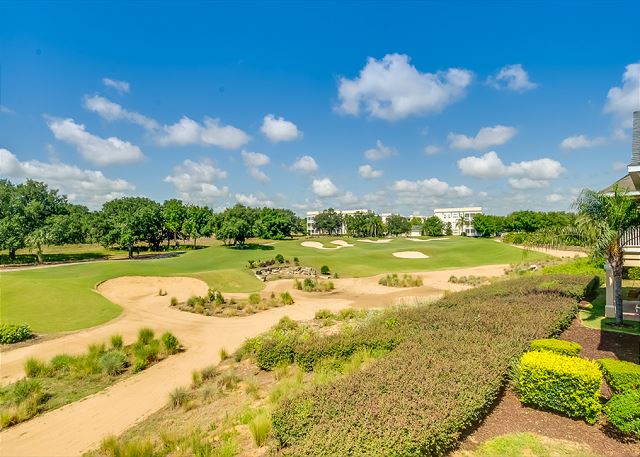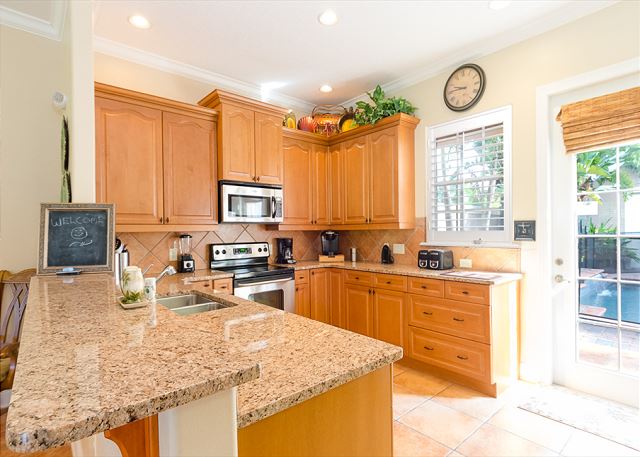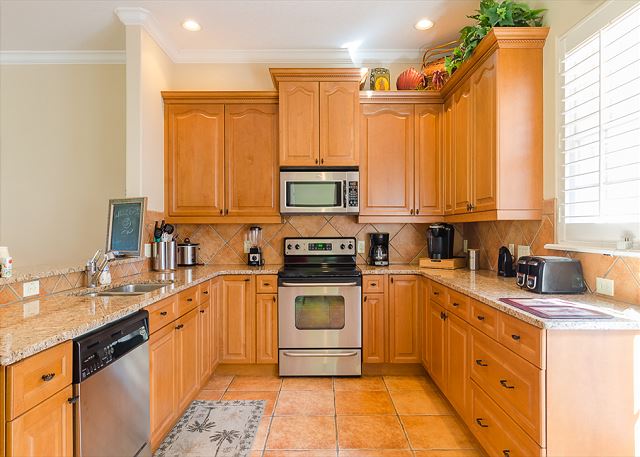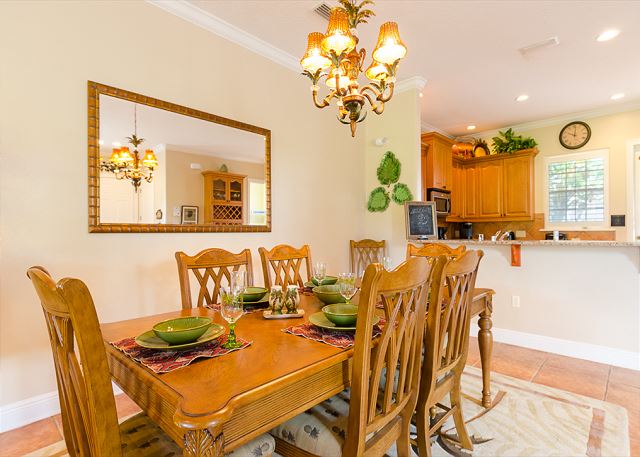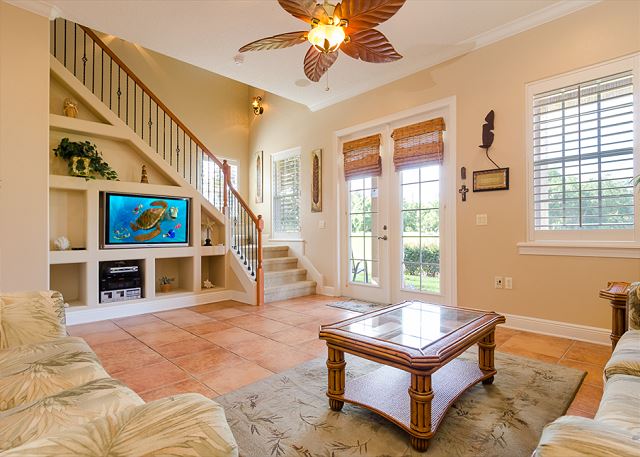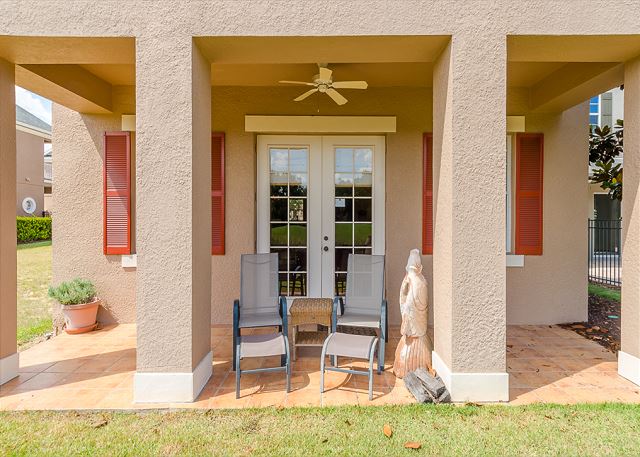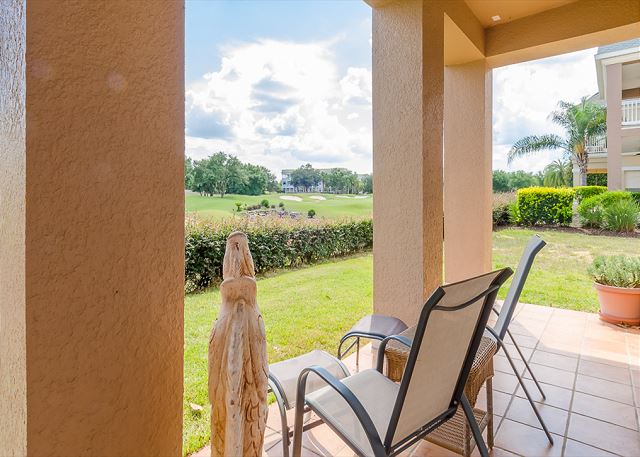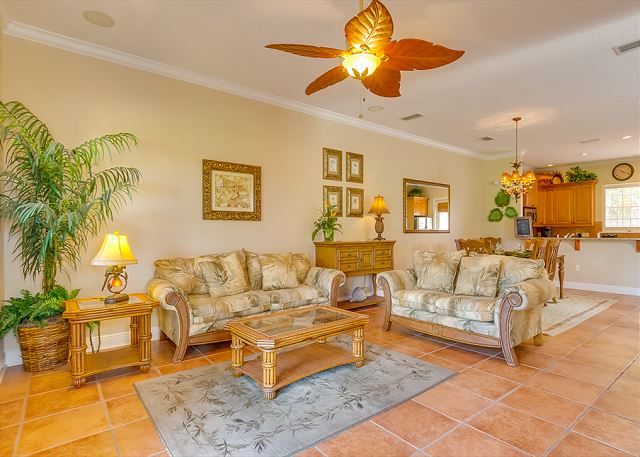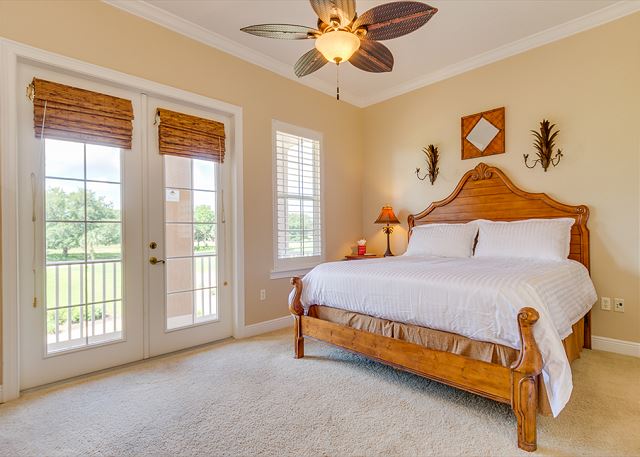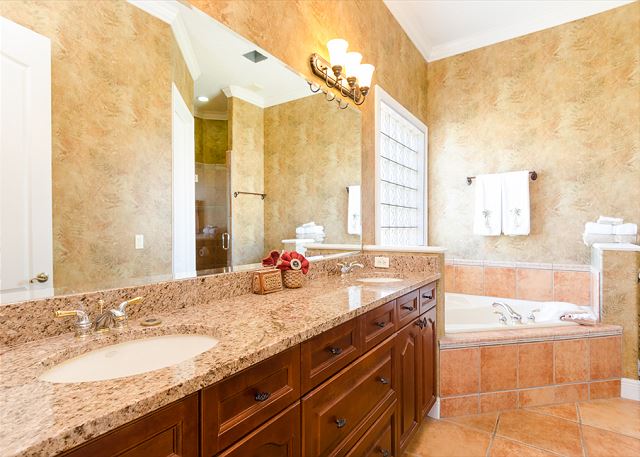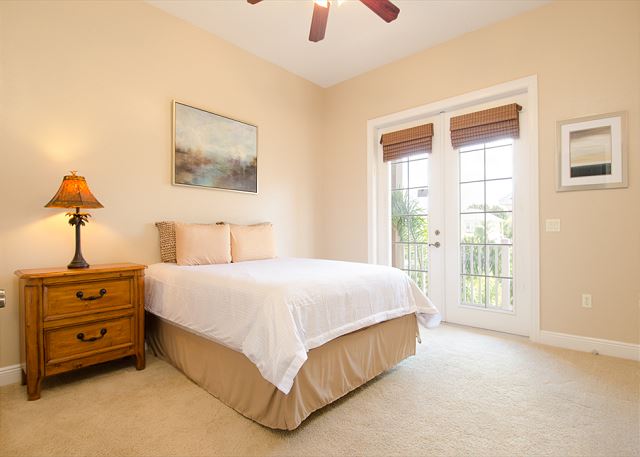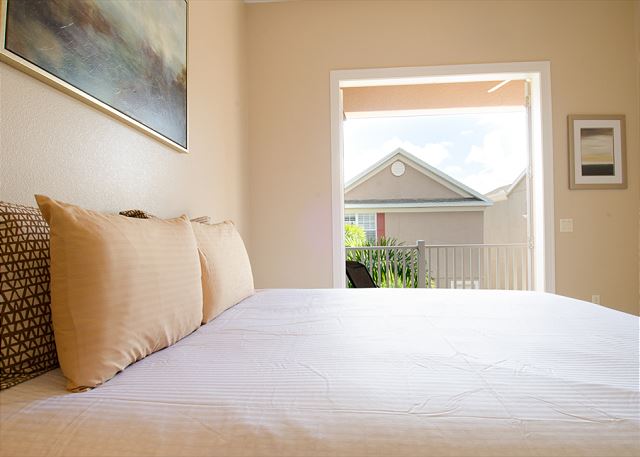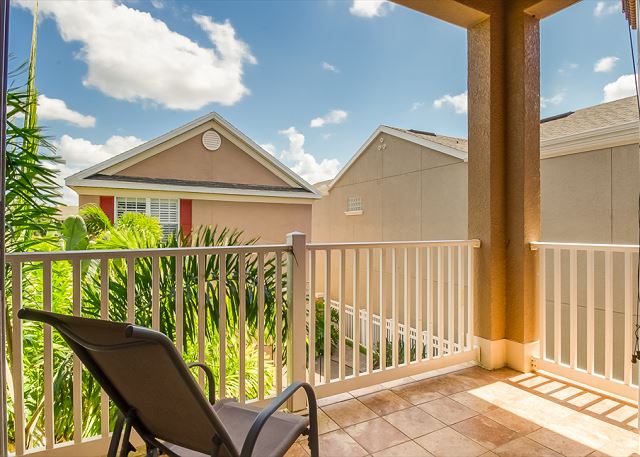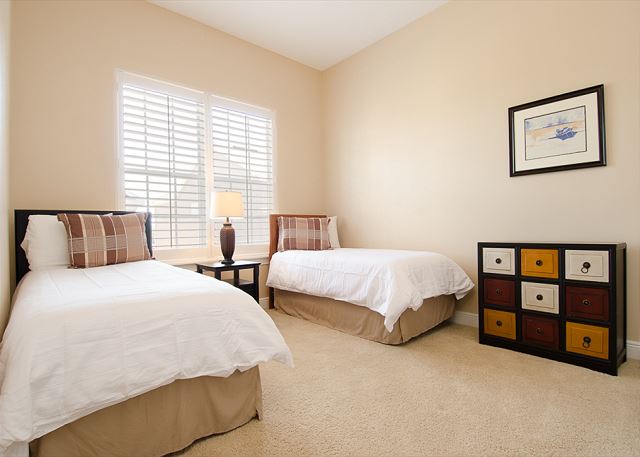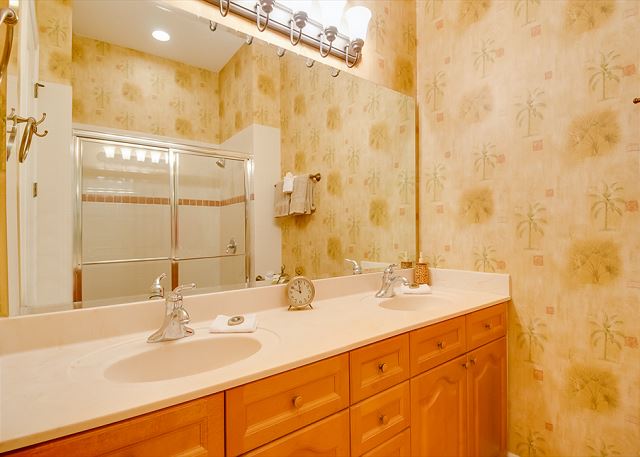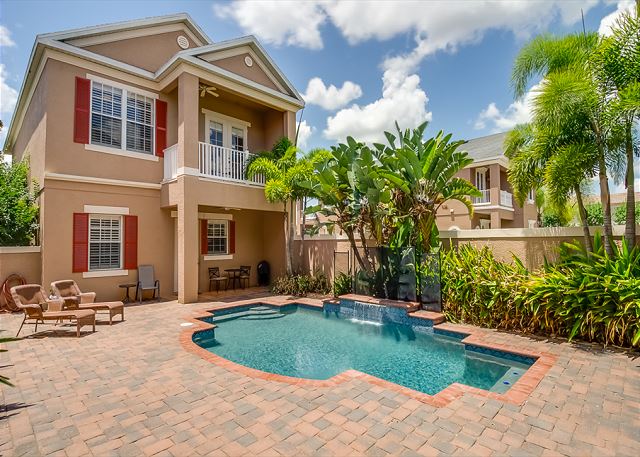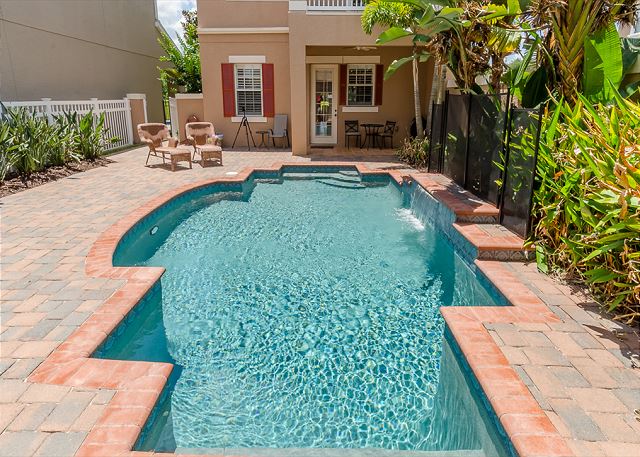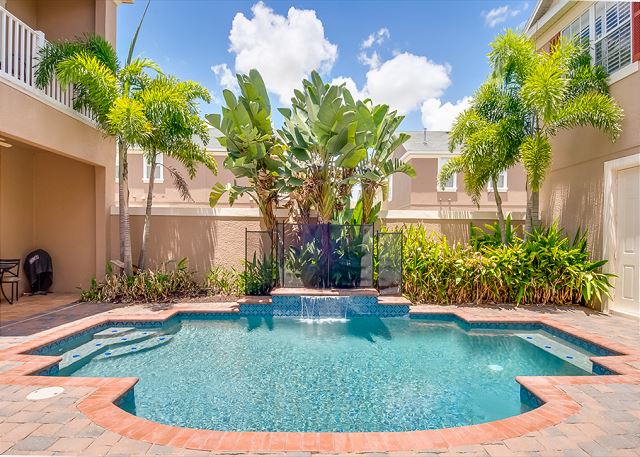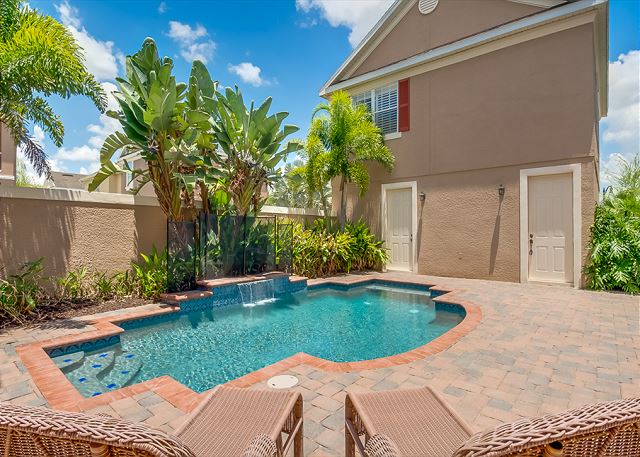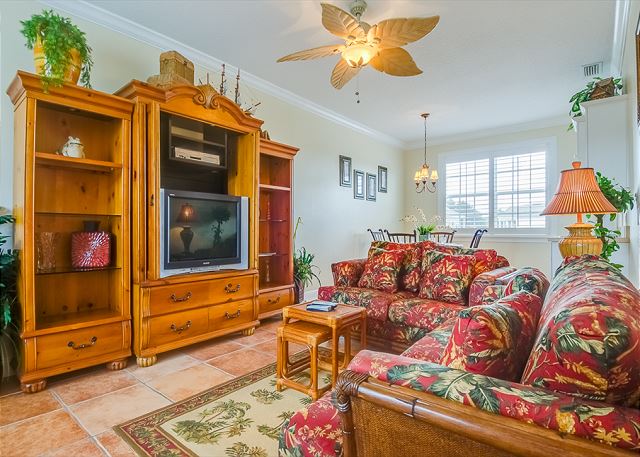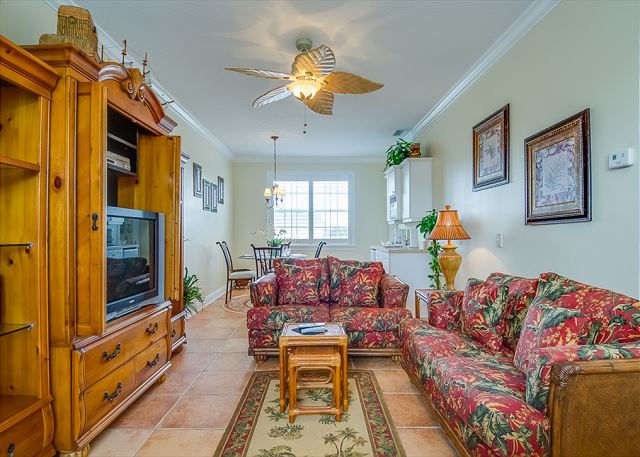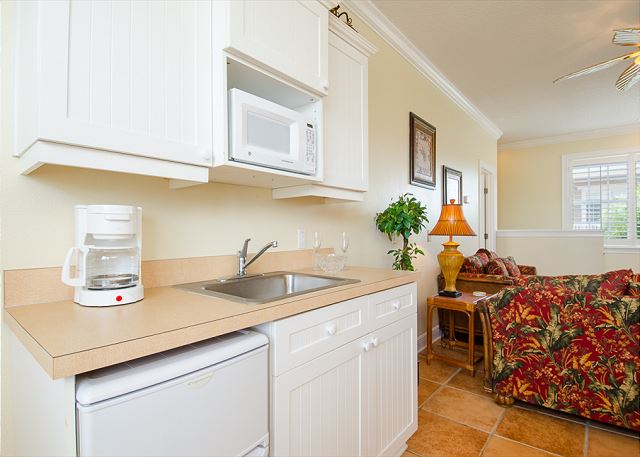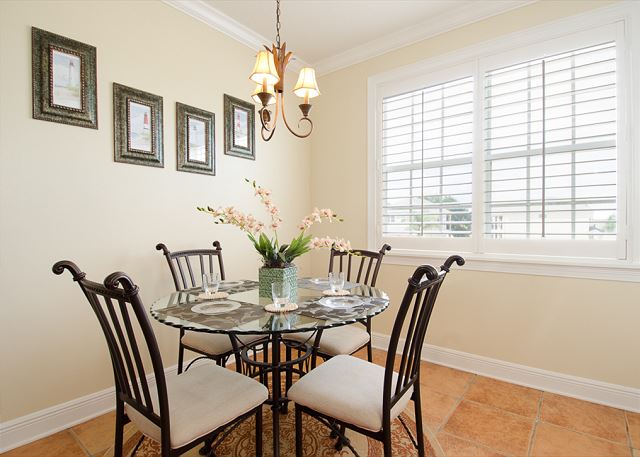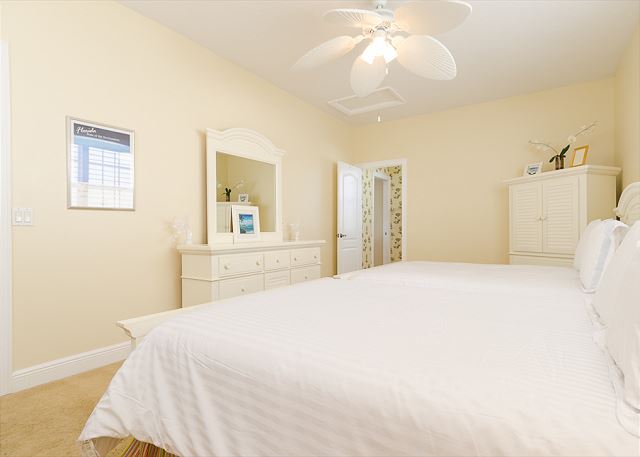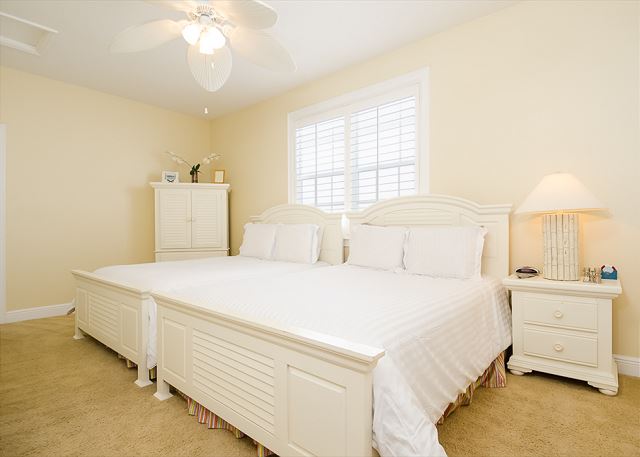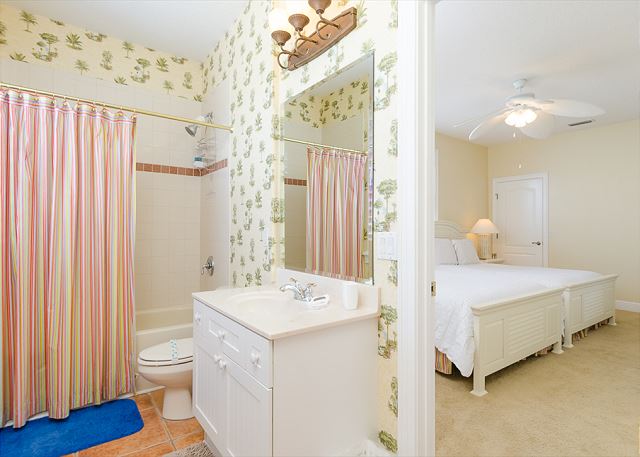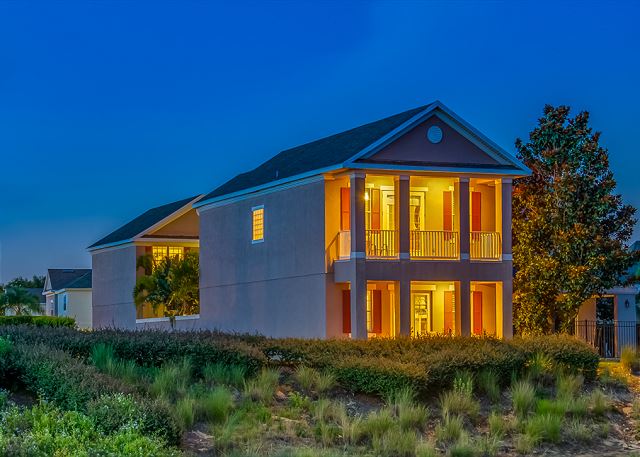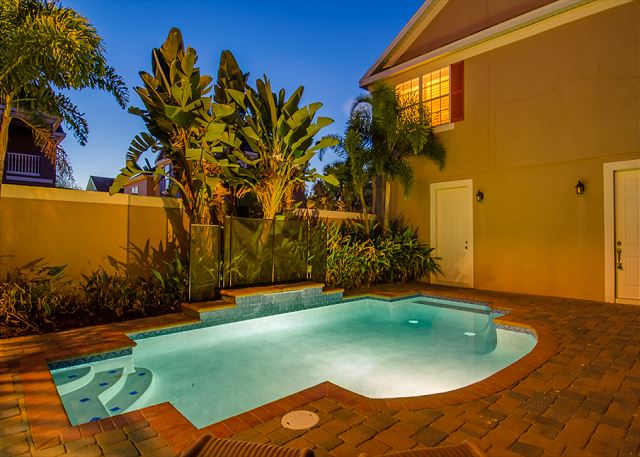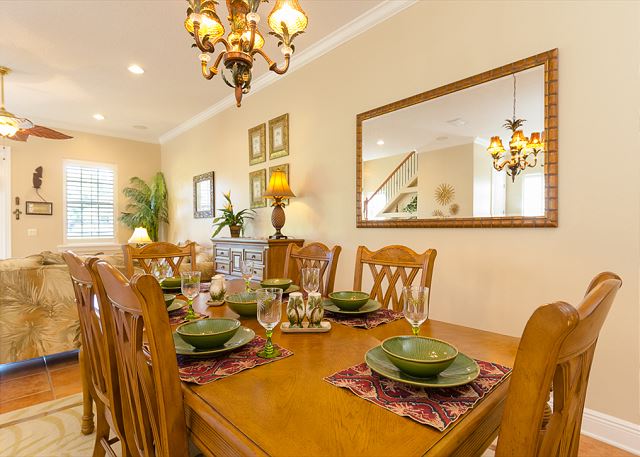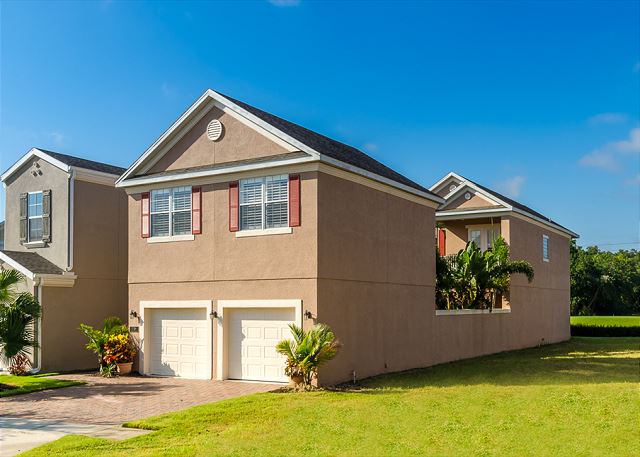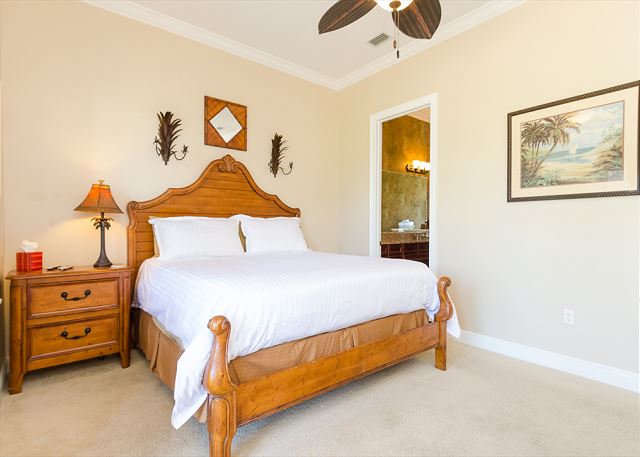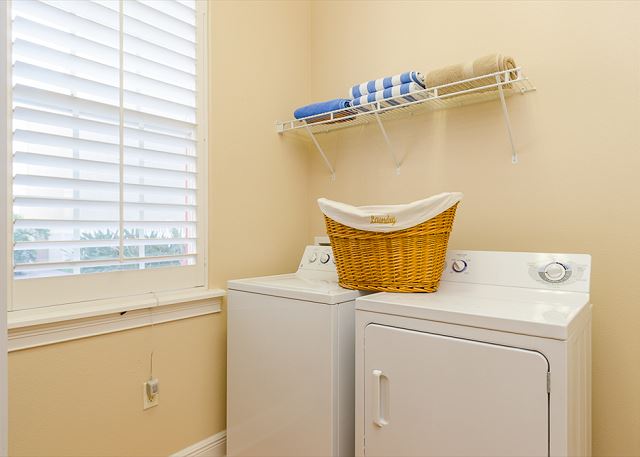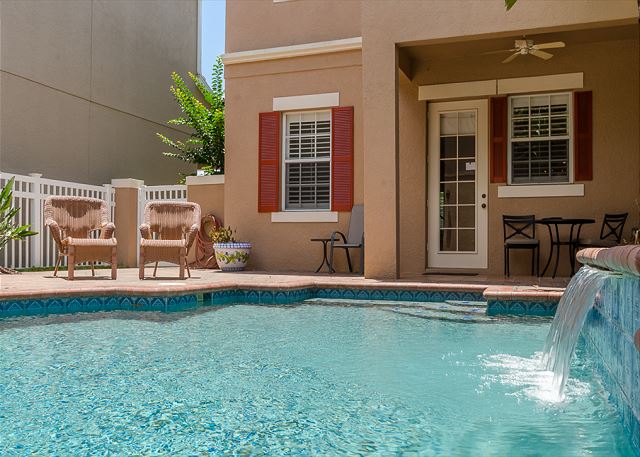 1 King, 1 Queen, 2 Twins. Apartment... 2 Queens

Prestigious 2415 Sq.Ft 2 story Reunion Golf view home (includes entirely separate Garage Apartment)

From first to last impression you are surrounded in high-end classic style luxury while the wonderful Florida sunshine shines through in this immaculately maintained luxury pool home.

Our home offers a fantastic, expansive balcony and porch views overlooking the greenery of the golf course (some of the best Golf Views on all of Reunion Resort)

A beautiful totally private courtyard with ample seating and loungers surround by the sun-drenched fully heated swimming pool and waterfall with separate heated spa plus outdoor dining is just the perfect place for BBQ Grilling / alfresco dining in the sun. All this awaits upon your arrival after a hard day at Walt Disney World (which is conveniently located at around 10 miles away, just a 10-minute drive).

It offers a large master bedroom (king size bed) with a very large bathroom. Another bedroom (queen size bed) plus a room with two single beds and beautiful views of the 5th hole of the Arnold Palmer golf course.

Upstairs is the Master bedroom with a King sized bed, flat screen TV and porch that overlooks the golf course featuring an en suite bathroom with a walk-in shower and large soaking tub. There are also two more bedrooms, one with a queen-sized bed and small patio that overlooks the swimming pool and one with twin beds. In the hallway is another bathroom that is shared by these two bedrooms and features a walk in shower.

The garage apartment adds additional space to this lovely home. The bedroom is large with 2 queen beds to sleep 4 along with a comfortable living room with armoire and TV. There is also a mini kitchen with a small dining table. This is a great addition to the home especially for older teens or grandparents looking for extra privacy from the main house.

Free highspeed internet and Wi-Fi covers the whole property, even the pool area!.

High-end bedding, linens, and bathrooms are standard throughout and all beach and bath towels are included - just bring your suitcase we have you covered!

Hungry? The high-end beautiful kitchen area with top cabinetry and granite countertops complete with everything you could need from pots, pans, coffee maker, blender, crockery, double door refrigerator with chilled water dispenser and ice cubes at the touch of a button has you covered.



Laundry room with full-size washer and dryer complete with iron and board should you need them.

Located in one of the top resorts in all of the Disney Reunion Resort and Club is a world renowned short term rental golf community just minutes to WDW. Allow us to take the anxiety in renting a home you have never previously visited, our home us professionally managed and maintained to the highest standard.
Thank you for entering your review. The review will become available to the system shortly.
Rating:
Review Date: 04/14/2017
What you see is what you get, a cleanish, a bit worn, comfortable and professional rental property. This is not a typical AirBnB. Very little hospitality. No direct contact nor did we attempt any. The pictures are accurate- the house is very large, the complex is very nice. It is well located and well priced. Overall well run but nothing unusual or remarkable. No extra touches and the bare minimums is what you get. Small items needed a lot of attention. Exposed electrical in master bath is an example (we have pictures but AirBnB doesnt let us upload them). Carpets show the wear of a well used rental house. Do not expect much in the way of toiletries (1 bar of soap for all bathrooms), garbage bag (we were there for a week and 1 bag was provided/left etc). We live in Florida and are used the the climate and bugs- but if you are not be prepared- we needed to buy a can of Raid and used it every day because we saw bugs (to be fair we did not call or email the host who might have taken care of it- we were waiting for them to call or email us and they never did). Nothing is wrong with any of this but it is more a rental home vs an AirBnB experience. Overall a good place but not luxury and not AirBnB, could be any vacation rental out there.
Hi David, I am really very disappointed to read this and apologies if your stay wasn't up to your hopes. I checked and I did not receive any messages from you either - for me as a host its a fine line between being efficient and being a pain in the 'backside' pestering people - so I send details and then -as most of my guests do- I respond almost instantly to questions and such - because you did not have any I just assumed you wanted to be left alone. I personally when I travel want to be left alone, but when guests message me with any issue - as you can see from my reviews which you commented on when booking - I take care of it immediately. I would encourage you to reach out to your host if you have a problem - particular as I live about 200 feet from your house and could have popped in and said hello easily. I do run a professional operation and per the county guidelines we do not lave many consumable items - I leave a welcome pack with dishwasher tabs and trrash bags and then wrapped hand soaps and 2 toilet rolls per bathroom, but also this is my choice as host - I mean I wold not want to check in to an airbnb and find someone else's have used nasty bar of soap or shampoo in the bathroom - I go for the 4 star hotel look - clean and tidy. In regards to the electrical socket I will dispatch someone immediately to repair this - thanks for bringing to my attention. thanks again for coming to stay. Carl
Rating:
Review Date: 04/07/2017
The place was better than what you can imagine. There was a time in my life, other people's homes and hotels were better than my home. I am mature now, and have a lovely home, and not much can hold a candle to the luxury of my home. THIS PLACE CAN! AND DOES! Beautiful , club house is great, spa is great, the staff are SUPER friendly; will definitely 100% recommend this place, and would like to return.
Thanks so much for leaving a review Cornelius - I really appreciate your kind words. You guys were awesome too and are welcome back anytime
Rating:
Review Date: 03/13/2017
Nice entertainment ,and clean stuffs.Overall ,Nice experience
thanks for taking the time to leave a review Emily. It was a pleasure to host you and I hope to see you again in the future.
Rating:
Review Date: 03/10/2017
Overall a great stay. The good: the house is located inside a resort community in a beautiful neighborhood. The house was clean and well maintained. Full kitchen, extra towels. Spacious and the dogs loved being outside! Sound system was great. Private courtyard. Garage entrance. Things we wish we knew: The home is located inside a resort so you can not enter through residents entrance. You have to go around and drive extra 5 minutes to come in through guest entrance. We were very confused trying to get to the actual house. Our pool was not heated even though we paid extra for it. The grill provided is a small electric grill. So if your planning a large BBQ you might want to rent/purchase actual grill. This would have been a 5 star experience had our pool been heated and had details about check in been more specific. An updated grill would be great also. But not a deal breaker.
Thanks for leaving a review. In regards to pool heat it was 39 degrees over night but 100% on - we tested the water in the high 70's which is not 'hot' but as mentioned, we had a really strange cold front and the weather was as low as 39 degrees over night so it was working otherwise the pool would have been ice cold - it was not 'hot' for sure I agree, but much warmer than otherwise would have been expected and most guests were using pools at that level - had we have been able to make it hotter we would - it was set to maximum but it was just a really cold weekend. For the gate I will make sure I update my notes as yes, the residents entrance is one of 4 or 5 entrances for the resort and you need a card which is for permanent residence only. For the grill I will make sure I check it and update per your advice - thanks again sincerely for coming to stay Aline.
Rating:
Review Date: 02/13/2017
I stayed here for my daughter's birthday vacation to Disney. The house was a quick drive away from both Disney and Sea World! The home itself was very nice and comfortable. It comfortably slept 7 people. Waking up to the view of the golf course was a nice touch as well!
thanks for leaving a review Megan - you are welcome back anytime
Rating:
Review Date: 02/09/2017
Good location and nice big house with a lot of rooms and amenities. Perfect for a family vacation
Rating:
Review Date: 01/05/2017
Awesome getaway for my family and I. Great neighborhood. Great location. Great stay.
thanks for coming to stay and taking the time to leave a review Davin - you are welcome back anytime
Your request has been sent. We look forward to meeting all your vacation needs!